Introduction 
Achieving business success requires a complex sequence of steps and processes that ultimately contribute to generating revenue and sales. 
The pivotal factor for business success lies in executing these steps and processes precisely and efficiently, aiming to optimise productivity, profitability, and customer satisfaction. 
Among the various tools and systems available for streamlining operations, point of sale (POS) terminals play a vital role as the primary interface for customer transactions and given that customers are the cornerstone of any business, establishing an effective management system for POS terminals becomes imperative for ensuring business success.
The benefits of a POS terminal management system cut across different business segments and types.
This article will delve deeper into the real meaning of the POS Terminal management system, the currency challenges in business operations that the system solves, best practices and future trends. 
What is a POS terminal management system?
POS terminal management systems combine hardware and software to streamline sales, transactions and inventory analytics. 
The system has emerged as a powerful solution to revolutionise how businesses handle their point-of-sale operations. 
This is just more than the POS devices for payment; this is just more than the software that enables payments. The POS terminal management system is a comprehensive solution that streamlines and optimises the management of POS terminals within a business. The POS terminal management system also simplifies customer service, provides detailed product information and collects transaction data for analysis. 
At its core, a POS terminal management system is a central hub connecting multiple POS terminals, enabling businesses to monitor and manage their sales operations from a single interface.
POS terminal and POS Terminal system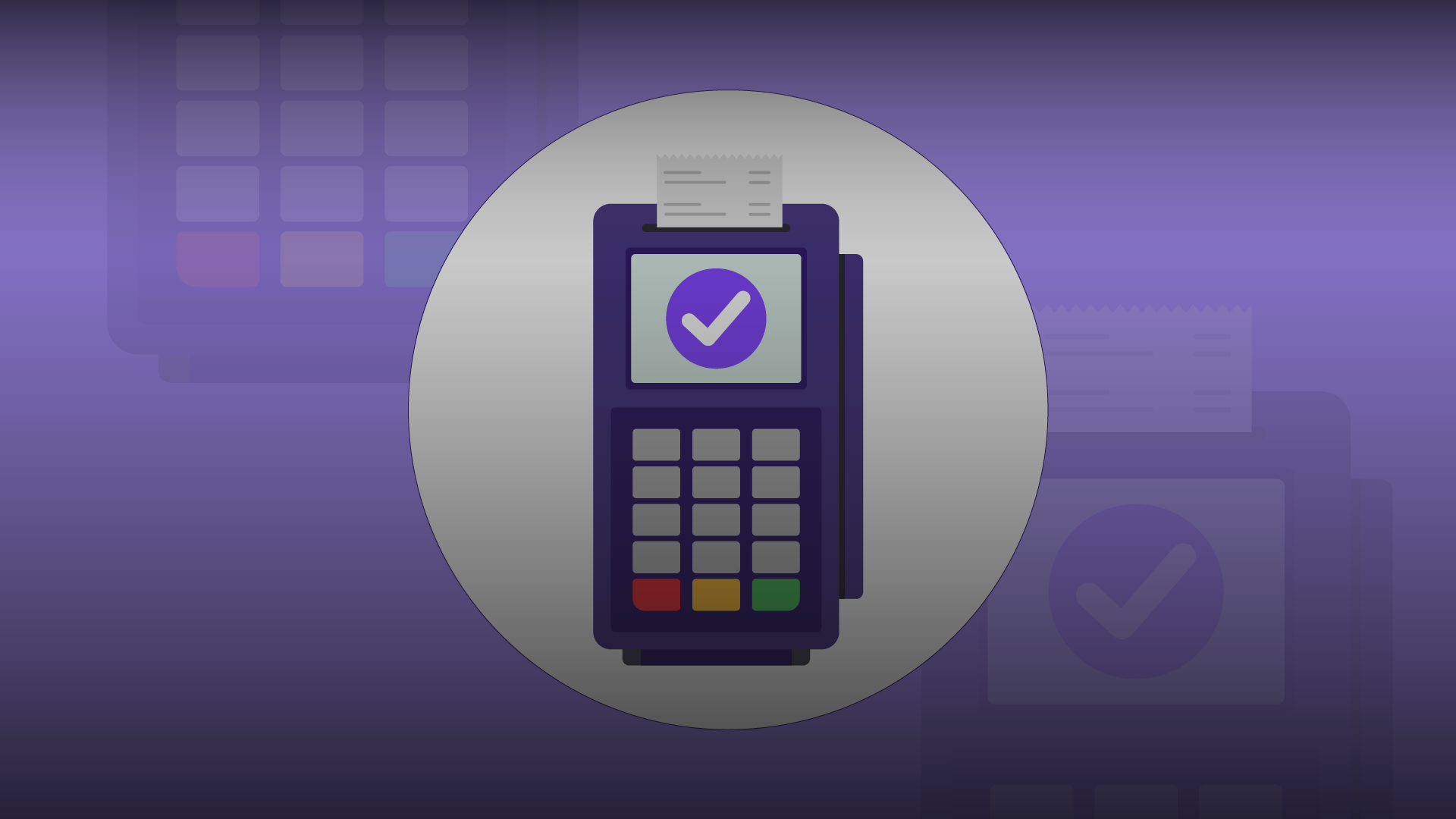 POS terminals are the devices that enable businesses to collect payments
It is important to simplify the terms in this article to understand better what we are discussing. 
A POS Terminal are the devices that enable businesses to collect payments, while the POS Terminal systems are multifunctional. 
Examples of its multifunctionality include simplifying payments collections, inventory management, accurate tracking of sales data and seamless integration of the POS operations with other critical systems such as accounting and customer relationship management. 
These systems enable businesses to optimise their operations, boost productivity, and gain a competitive edge in a rapidly evolving marketplace.
It gives businesses real-time visibility into sales data, inventory levels, and customer insights, empowering them to make informed decisions and drive operational efficiency.
The function of a POS terminal management system
Shopping at a retail shop ends at the sales desk where an attendant uses a system like a computer to check the prices of all your goods, calculate the total and use a POS terminal to collect payment. 
This is the POS terminal system streamlining the business operations. 
These are some of the functions of a POS terminal management system 
Optimised payment 
Payment optimisation is what first comes to mind when discussing POS terminals. This association makes sense because POS terminals serve as the means of collecting in-person payments. 
However, as explained earlier, it is important to note that the terminal is just a part of a larger system that enables payment.
One of the primary functions of the POS terminal management system is to optimise payments for businesses which helps them to enhance their overall customer experience and to make more sales. 
A POS terminal management system supports a wide range of payment methods. This function can help businesses to avoid long wait times for customers during payments. 
A POS terminal management system provider like Fincra can conveniently enable your partners to receive in-person payments via cards and bank transfers. 
This functionality to collect payments in different methods enables a better customer experience at your physical stores or during in-person transactions. 
In Nigeria, it is usual to see customers without cards go through the rigorous process of making payments through bank transfers and waiting for confirmation. However, a POS terminal management system optimises this process with the option to pay with quick bank transfers, which the terminal immediately confirms with a receipt. 
Inventory management
POS terminal management systems help businesses to take stock of their inventories properly. 
It starts with the entry of all available stock into the system. As sales attendants check out products, it automatically updates the inventory in real time. 
This process allows businesses to effortlessly keep track of their stock levels and get real-time updates of when they are low on stock. 
A POS terminal management system ensures that businesses stay supplied and customers get what they need. 
Data capturing for analytics and insights
From business and customer interactions during payment, POS terminal management systems can capture a wide range of information that will be insightful for businesses- from sales volumes to inventory level, product details, customer demographic and buying patterns etc. These data points can help businesses with insights into their inventory, customer's buying pattern and preferred payment methods and other insightful data. 
With this data, businesses can make informed decisions that can help drive business growth and expansion. 
Integration with other business systems
Businesses use several technologies to streamline their operations in this competitive business environment. 
However, managing data from various tools and systems can be challenging, making it difficult to centralise data for effective analytics and reporting. 
This difficulty is why using tools that can integrate with others is important. A POS terminal management system integrates with other critical business tools and systems. This integration ensures a flow of information across different departments for reporting. 
POS terminal management systems can integrate with accounting systems to get important sales data, transaction details and financial reports. 
POS terminal management systems can also integrate with inventory management, as we mentioned before and with customer relationship management (CRM) tools to get crucial information about customers like their preferred payment method, profiles, purchase history etc.
Benefits of using a POS terminal management system
We have mentioned some benefits from our discussion on the POS terminal management system. In this section, however, we go into the details. 
Simplified payments for your customers
Receiving payment is a pivotal step for any business and a POS terminal management system simplifies the process for your customers. 
This simplified process ensures that your customers quickly make payments to complete a transaction. 
The business benefits in so many ways; your customers are satisfied with the convenience and efficiency of making payments, leaving a positive impression of your business and increasing the likelihood of being a returning customer. 
Customer retention means more sales and revenues for businesses. 
Optimised inventory management 
With the POS terminal management system, businesses get real-time updates on their stock level, preventing a reduction in overstocking and stockouts and automating reordering. With this, the enterprises are always in stock and ready to serve their customers. 
This inventory management efficiency furthers customer retention as returning purchasers always get what they need, which leaves a positive impression on the business. 
Efficient sales and reporting 
The POS terminal management system centralises data from several tools and systems, giving the business real-time data on critical aspects of their businesses- from sales data and insights into consumer behaviour which businesses can use to improve their pricing, warehousing, stocking and marketing strategies. 
Efficient operations
As POS terminal management systems integrate with other business tools and systems, it centralises data from all these several systems. 
This centralisation can improve business performance by reducing errors and duplication and ensures consistency across departments and systems. 
Improved customer experience
Several times earlier pointed out how the POS terminal management system ultimately helps businesses improve customer experience, but it's important to note it separately. 
Every functionality of the POS terminal management system benefits the customer, the most crucial participant in any business process. 
The POS terminal management system quickens the checkout process and reduces customer wait times, ensuring a positive experience with any business. 
POS terminal management systems help businesses get valuable information on customer preferences, buying patterns, etc., that will inform their marketing and sales strategy. 
For example, in marketing, data like these can help businesses to set up targeted campaigns that will positively impact the customer, enhancing their experience with the business. 
How to choose the right POS terminal management system
Choosing the right POS terminal management system starts with the right payment partner like Fincra. 
Fincra POS terminal solution has suitable functionalities to empower your businesses. We have developed a reliable POS terminal solution allowing businesses to win new customers and increase sales. 
Fincra POS terminal solution helps businesses to manage POS units operation and enable powerful analytics and reporting on sales, products and transactions. 
Our solution has all the features and functionalities you need from a POS terminal management system. It is scalable and flexible to accommodate increasing transaction volumes, more store locations and expanding product lines as your business grows. 
Fincra's POS terminal management system can also integrate with other critical business tools and systems, ensuring data consistency, eliminating manual data entry and reducing errors. 
We also provide exceptional support to businesses who partner with Fincra, ensuring that their POS terminal management systems are up-to-date and resolving all issues as quickly as possible for smooth operations. 
Steps to get on board with a POS terminal management system 
Every critical decision in businesses requires adequate and deliberate planning, and it doesn't get as essential as getting a POS terminal management system. 
These are some steps to take before getting a POS terminal management system.
Assessment
Businesses need adequate assessment to determine why they need a POS terminal management system. 
Getting a clear idea of the functionalities and features you need will give you a clear picture of what you want. 
Choose a trusted partner 
Choosing the right partner for your POS terminal management system like Fincra is crucial. An excellent partner like Fincra puts you steps ahead of the competition and gives you an advantage. 
Fincra does the heavy lifting in setting up an excellent POS terminal management system for your businesses, leaving you with nothing to bother about and the opportunity to dedicate your resources to other critical business needs. 
Configuration
The next steps are easier with Fincra, which involves setting up the system and configuring your business needs in terms of branding, pricing structures, etc. 
The configuration also involves setting up the right hardware components like POS terminals, barcode scanners, receipt printers and cash registers. 
Integration
After the hardware is the software to synchronise the hardware and integrate with other systems. 
Testing
After setting up, Fincra will undertake testing and quality assurance to test different scenarios like customer checkout, payment, etc. 
Training
Fincra will also provide the necessary resources to train business employees on how to use the POS terminal management system. Employees will get proper training on working the system, its key functionalities and features, workflows and best practices. 
Go-live
The next step for Fincra is to go live across all your business locations, monitor performance and constantly fix any issues. 
We prioritise businesses at Fincra and do everything to ensure you win. As a trusted partner, we will hold your hands and get through this process. 
Future trends and innovations in POS terminal management
Technology is always at the forefront of change and innovation; there are some to look out for in POS terminal management. 
Mobile and cloud-based solutions
Mobile POS solutions and cloud-based platforms are gaining popularity, with businesses using smartphones and tablets as payment devices. 
This innovation offers greater mobility and flexibility because of the cloud-enabled services. With this innovation, businesses can set up POS terminal management systems anywhere and anything. 
AI and machine learning
We have already seen AI and machine learning in marketing and other aspects of our lives. These innovations will be the next big things in POS terminal management to analyse large amounts of data to provide valuable insights and predict customer behaviour. 
Contactless payment 
This innovation is spreading faster, especially in Africa, with Near Field Communication (NFC) and mobile wallets. 
With the innovation, POS terminal management systems are equipped with contactless payment capabilities to facilitate seamless and frictionless payments to improve customer convenience and reduce physical contact.
Staying up-to-date with these innovations is key to staying competitive in the business environment, and Fincra is the right partner to guide you through every step. 
We are on top of all trends and innovations and introduce and guide businesses through them when it becomes critical to adopt them. We study consumer behaviour, marketing regulations and many other elements to determine the best time for businesses to adopt new technology.