Introduction
Point-of-sale (POS) hardware is the broad term for any physical equipment used to process and manage offline transactions and one of the most important components for offline businesses and
POS hardware is the physical equipment businesses use to accept in-person customer payments in various forms, including cash, credit/debit cards, and mobile payments.
From card terminals to cash registers, barcode scanners, receipt printers, and card readers, POS hardware helps businesses to quicken the checkout process.
It is important to distinguish between POS hardware and systems that we wrote about earlier. POS hardware is the physical equipment, while the system combines the hardware and the software. This article is about the hardware.
POS hardware is important to any retail business because it automates and streamlines the checkout process. With POS hardware, businesses can save time and money while optimising their customer experience.
With POS hardware, businesses can increase efficiency, improve accuracy in pricing and payment, enhance data collection and reporting, and improve inventory management and overall sales and revenue.
This article will look at what POS hardware does, its different components, benefits and features.
Components of POS Hardware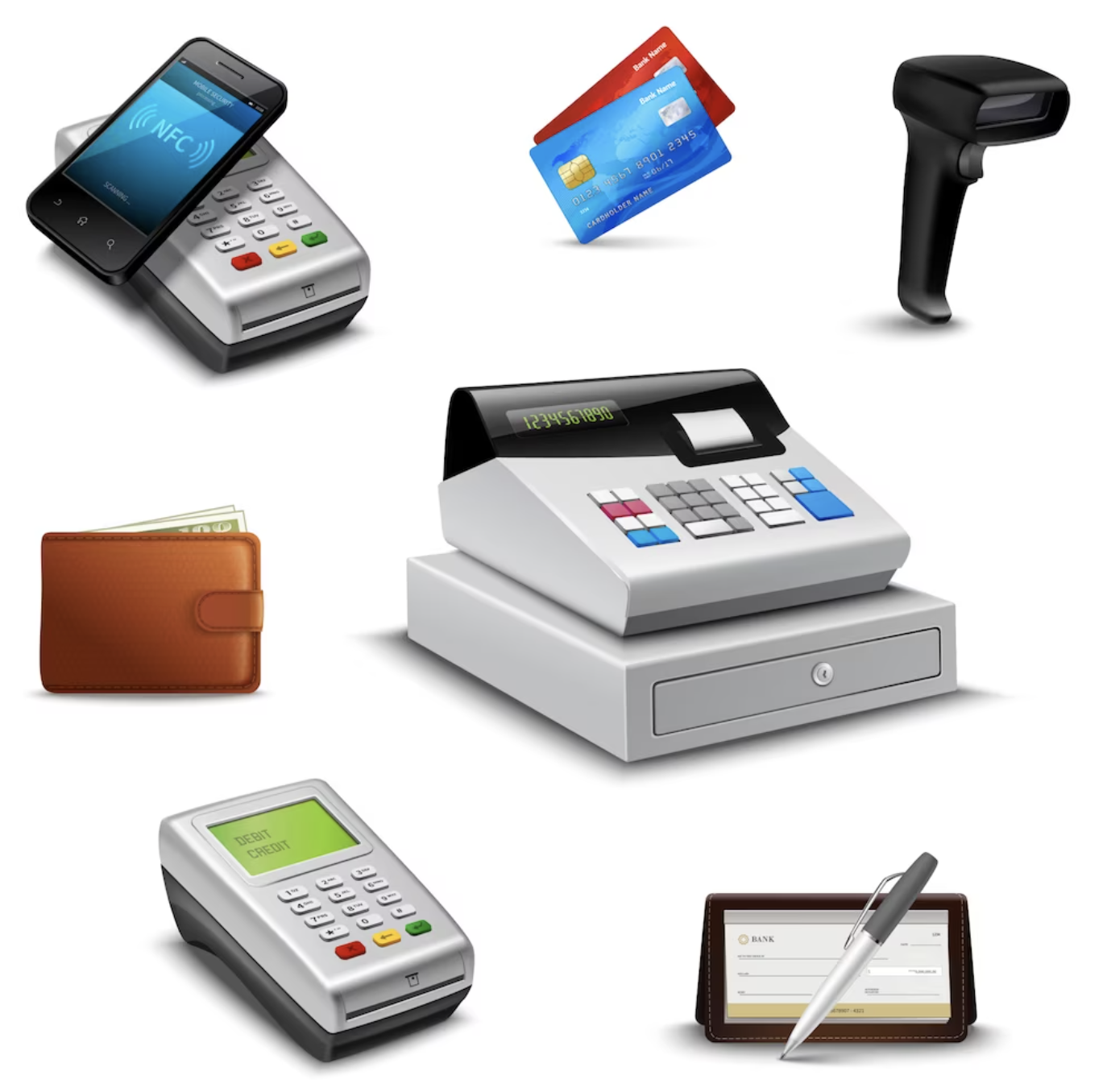 For those not familiar with POS hardware and the different types, pay attention to where you make payments in any retail situation. From super stores to restaurants, hotels, fuel stations etc. 
There are several different components of POS hardware that businesses use. Each component has unique features and functionalities for different business needs and use cases. 
Card readers
Card readers are the most common POS hardware in Nigeria and Africa. This hardware processes credit and debit card transactions. The card reader allows a customer to connect or swipe their card, and enter a pin to validate the payment. 
Cash registers
Most superstores in cities across Africa use cash registers. A cash register is a machine with a cash drawer, display screen and keyboard. The cash register is also where businesses store physical bills. 
Touchscreen monitors
Touchscreen monitors are becoming popular, too, especially with retailers in high-brow areas in Africa. Touchscreen monitors consist of a touchscreen display, an operating system and printers, cash drawers and other peripherals. 
Barcode scanners
With barcode scanners, businesses allow customers to scan the barcodes on products. Scanning automatically brings up all relevant information about the product, including the price. 
Receipt Printers
These are the hardware used for printing receipts of transactions. 
Mobile POS devices
Mobile POS devices are portable devices. Restaurants and delivery businesses use this component because it's mobile and allows them to process transactions anywhere. 
The types of businesses and customers usually determine the component of POS hardware; most businesses use more than one component of POS hardware. 
For example, a high-brow restaurant can use touchscreen monitors, receipt printers and card readers to complete a transaction. Another similar restaurant can use barcode scanners with a card reader and receipt printers. 
Features and benefits of POS hardware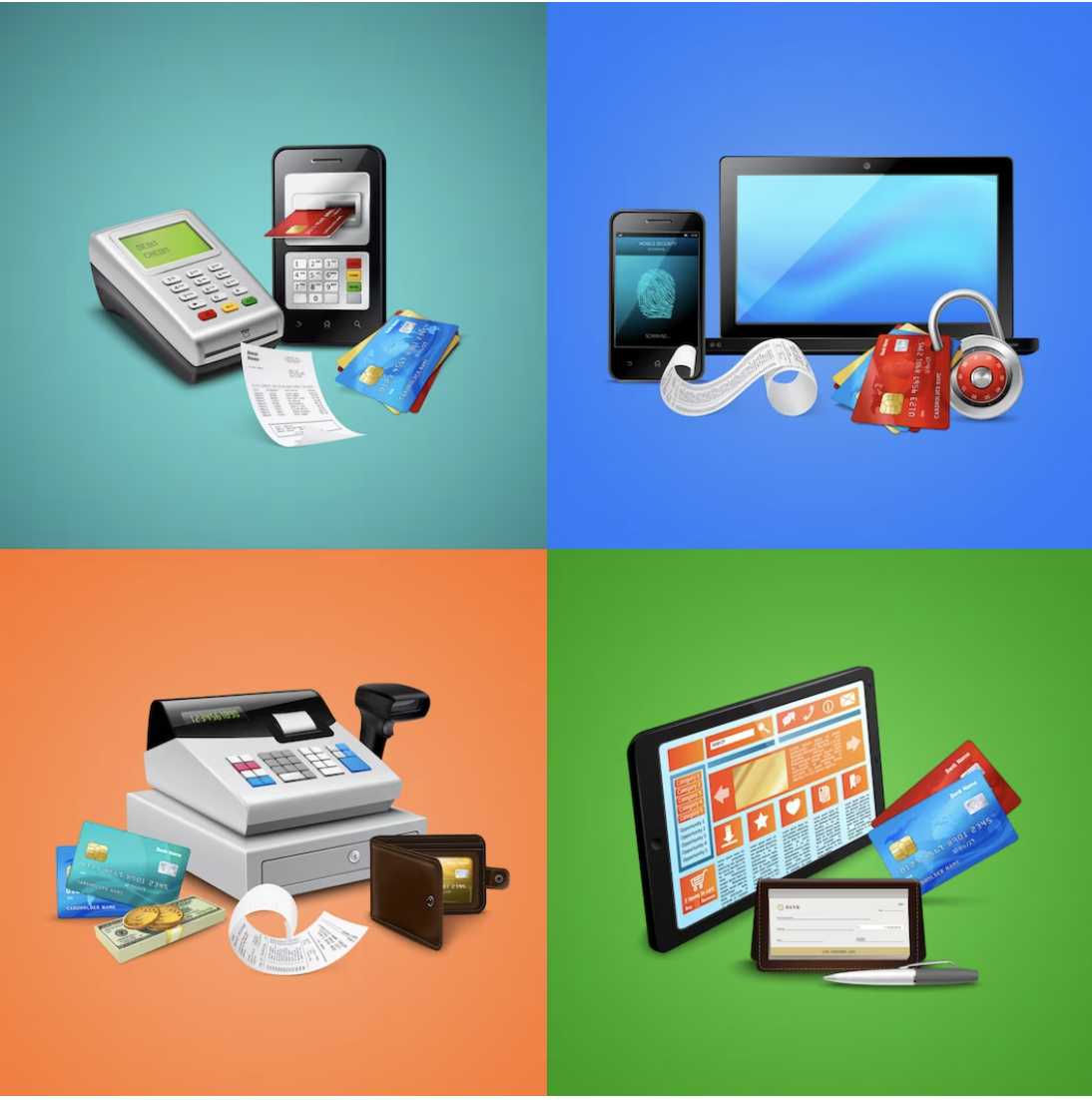 POS hardware comes with several features that help businesses quicken the checkout process and optimise business operations and customer satisfaction. 
Payment processing 
Payment processing is the primary feature of POS hardware; at least, that is how many people think of it. 
The card readers are the leading payment processing component of the POS hardware. Businesses use card readers to collect card payments. Modern POS systems also allow some components of POS hardware to accept other payment methods. 
The POS terminal also accepts mobile payment when integrated with a Fincra's POS solution. 
Quick payment processing can lead to more sales and revenue, customer satisfaction and loyalty etc. 
Inventory management
POS hardware helps businesses to manage their inventory better. Information on the monitor, for example, provides insights into the most sold products and products that need restocking. 
Sales reporting
There are different components of POS hardware that help businesses in sales reporting. Information from monitors and scanners can provide reports allowing businesses to understand sales trends, customer behaviour and top-selling and under-selling products. 
This information can help businesses to make better decisions and improve their sales strategy. 
Customer management
Nothing beats understanding your customers, and the different components in POS hardware can help businesses. 
Customers are satisfied with fast checkout and payment processes. At the same time, businesses can use insights to understand customer behaviour and buying patterns.  
You can also use some components of POS hardware to get valuable customer data. 
Maintaining Your POS hardware
While using POS hardware, it is essential also to maintain it. 
Businesses can maintain POS hardware by always keeping it clean from dirt and dust to increase its lifespan, performing regular software updates to help to fix bugs, enhance performance, and provide new features. 
Regular performance checks are another way to maintain your POS hardware. 
How to choose the right POS hardware
Choosing the right POS hardware for your business can be a head-scratcher with several options available. Some of the things to consider include the following; 
The need for POS hardware differs with each business. Some businesses only need one component, while others need two. A restaurant, for example, would need to have card readers and mobile POS devices to collect payments from their customers anywhere. They do not need their customers to stand up and walk to a payment point before making a payment. That won't make for a good experience. 
Cost is another important factor to consider when getting POS hardware. 
Before getting POS hardware, businesses must consider its compatibility with software and systems. 
There's no point in getting POS hardware that would be difficult for employees to use. Ease of use should be a significant factor. 
Businesses should look far ahead before deciding on POS hardware. Choose hardware that would still be useful when your business grows. 
POS hardware is only functional with the systems and software. Businesses must integrate with a payment company to get a complete set-up POS system optimised for payment processing. 
Fincra is the ideal partner for your POS solution. With the complexities around offline payments, Fincra has the most innovative solution for any business needs. 
We at Fincra believe that POS hardware can accept all types of payments. Our solution allows businesses to build applications for their POS hardware to collect payments via cards and bank transfers. 
These different options for paying on a POS are convenient for customers and businesses. The most seen scenario for POS payments is with cards. With Fincra, you can avoid the long wait for customers who pay via bank transfers– Nigerian businesses usually hold the customers until they can confirm transfers. With Fincra, this can be a thing of the past. 
POS payments, irrespective of the payment method, are fast and efficient, with customers getting an instant receipt.
Fincra's solution also provides advanced analytics and an intuitive dashboard that displays real-time transactions, reporting and analytics from all POS pay points. 
Insights from these dashboards can help businesses in inventory and customer management. 
As your business grows, Fincra can expand your options with the latest trends in POS solutions. 
Our POS solution is up to date with the latest innovations in POS technology. We can build our POS solutions on Mobile POS and Cloud-Based POS. 
Conclusion
In summary, POS hardware is the physical equipment businesses use to accept customer payments in various forms, including cash, credit/debit cards, and mobile payments. 
There are different components of POS hardware, and most businesses use more than one component for their business. 
POS hardware helps businesses to streamline their payment process and business operations. 
These benefits are, however, only possible if the best software and systems are well integrated into hardware.
A trusted payment partner can help businesses to make the best use of their POS hardware with the best system. 
Fincra's POS solutions are helpful for retail stores, restaurants, hotels, fuel stations, distributors etc. 
Create a free account to get the POS solution for your business.