Introduction
Every click counts in the dynamic world of buying and selling online, especially with the dime and a dozen distractions on the internet. 
The dynamism of the e-commerce world and these numerous distractions on the internet have shortened the attention span of online shoppers, making the checkout process a critical crossroads between a potential sale and a lost opportunity. 
Understanding the nuances of checkout, its significance for businesses, and the game-changing benefits of a customised approach can be the key to unlocking unparalleled success in the digital marketplace. 
In this article, we delve into the fundamentals of checkout, its pivotal role for businesses, and how a tailored, customised checkout experience can reshape the e-commerce landscape.
What is checkout in e-commerce
Checkout in e-commerce is the final process of a customer's journey which includes confirming selected items and making payment through a payment gateway. Do you know the moments when you place an order in an online store and then proceed to make a payment? That is checkout. 
Checkout involves customer interaction, including reviewing selected items, providing shipping and payment details, and completing the transaction.
These checkout processes might look like simple steps, but they represent the most important customer journey process in e-commerce. 
The checkout process holds immense potential to sway customer behaviour, influence conversion rates, and impact your bottom line. 
The pivotal role of a checkout process in e-commerce is why businesses strive to have an optimised checkout. A well-optimised checkout system can act as a catalyst for customer loyalty, higher revenue, and a competitive edge.
How does checkout work? 
Checkout involves an online shopper's final actions, including reviewing cart items, entering shipping information (usually for first-time purchases), choosing shipping options and selecting a payment method. 
The checkout process can also include applying coupons or discounts
People usually think about payment when they hear checkout, but the process involves many steps before payment. 
Payment is the final step of the checkout process and is powered by payment gateways. A payment gateway is a technology that facilitates the secure transfer of payment information from the customer to the merchant and subsequent transaction processing. 
Payment gateway providers like Fincra have Checkout as a product to help businesses collect online payments. With Fincra Checkout, businesses can allow customers to pay with their cards, bank transfer and Mobile Money (M-PESA in Kenya).  
The availability of multiple payment methods significantly enhances the business' capacity to cater to a broader customer base, extends convenience to customers and increases sales. 
Mastering the checkout experience holds the pivotal key to achieving success in the realm of e-commerce. This critical point is why businesses put so much effort into checkout optimisation.
Checkout optimisation refers to refining and enhancing the various elements and steps within the checkout process of an e-commerce website to improve user experience, increase conversion rates, and ultimately drive higher sales and revenue. 
Fincra offers the most optimised Checkout with simplified checkout steps, guest checkout option, clear progress indicators, mobile responsiveness, optimised form fields, trust signals, multiple payment options, saved payment information, prominent CTAs, visual design consistency and a host of other features to help convert more visitors into paying customers.
Taking it a notch further, Fincra also offers customised checkout.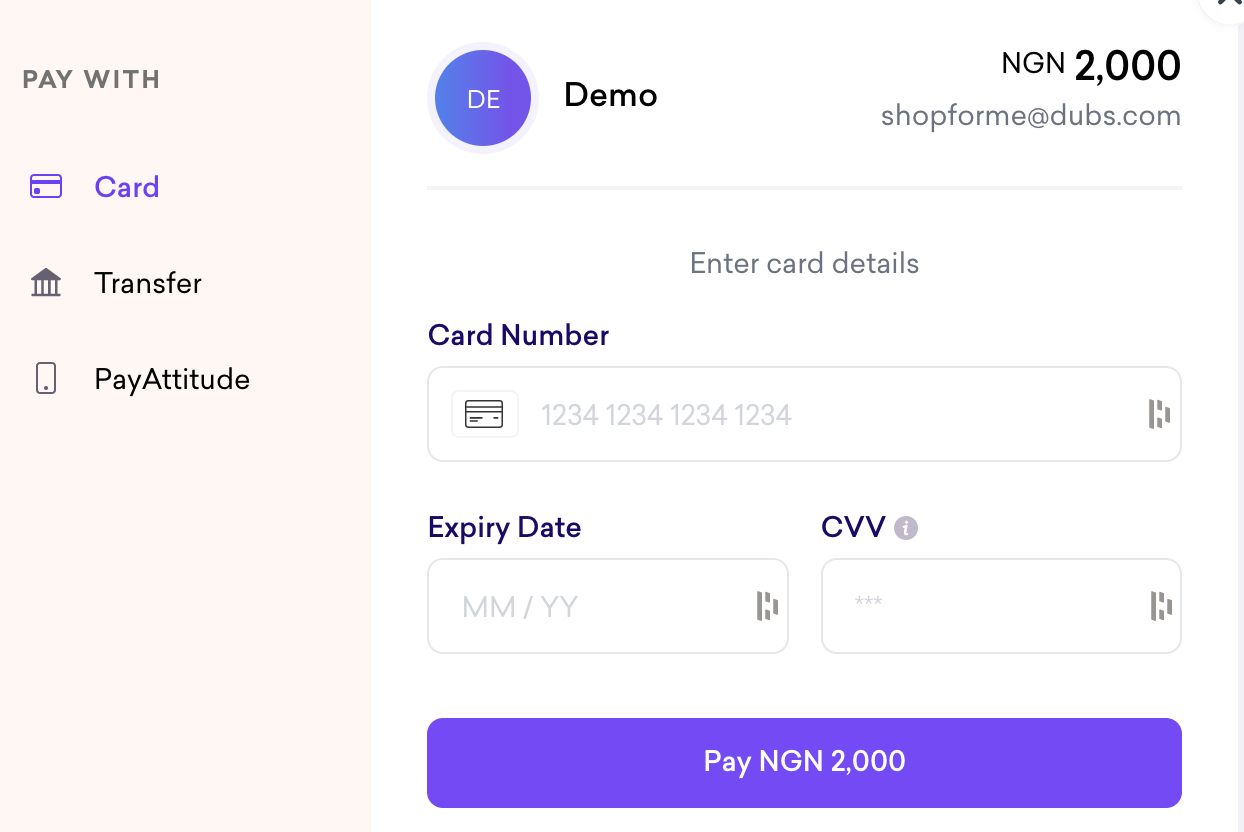 Customised checkout
Fincra also offers customised Checkout for businesses to tailor every aspect of the checkout experience to align with their brand identities and customer preferences. With customisation, businesses can turn their checkout flow into a fully branded experience that suits their and customers' needs. 
Apart from just customising, Fincra also has white-label solutions for checkout. This solution means powering businesses to present the checkout process to their customers as an integral part of their website or application.
With Fincra's white-label solutions, third-party payment processors or e-commerce platforms can customise and brand their checkout flow to match their visual identity and branding. 
Unlike the regular checkout flows, white labelling ensures that the checkout journey remains integrated within the business systems to eliminate disjointed transitions. 
When a checkout process is white labelled, customers interacting with the checkout page won't see any logos, branding, or indications of the provider (Fincra). Instead, they will see the branding, colours, and design elements consistent with the business they are purchasing from. This solution creates a seamless and cohesive user experience, enhancing trust and brand recognition.
White-labeling is particularly beneficial for businesses that want to maintain a consistent brand image throughout the entire customer journey, including the checkout process. It provides a sense of continuity and professionalism, as customers do not experience disjointed transitions between different stages of their interaction with the business.
Advantages of customised checkout
Seamless brand integration: A customised checkout seamlessly extends your brand's identity, reinforcing a sense of familiarity and trust as customers transition from shopping to purchasing.
Boosted conversion rates: A customised approach significantly reduces cart abandonment rates and fuels higher conversion rates by streamlining the checkout process, removing obstacles, and guiding customers effortlessly.
Personalisation: Customised checkout empowers personalisation on a deeper level. It enables tailored product recommendations, special offers, and a personalised 'thank you' message post-purchase, fostering a lasting connection with customers.
Flexible payment options: Offering a variety of payment methods caters to diverse customer preferences, thus enhancing convenience and elevating trust, a vital ingredient for sealing the deal.
Reduced friction and elevated user experience: A customised checkout design eradicates complexities, ensuring a frictionless journey simplifying the purchase path, delighting customers, and fostering repeat purchases.
Mobile optimisation: In an era dominated by mobile browsing, a customised checkout that seamlessly adapts to mobile devices elevates user satisfaction and accessibility.
Conclusion
Overlooking the checkout process can be detrimental to e-commerce success. Businesses must learn to optimise their checkout processes to improve customer experience and boost sales. 
Checkout customisation is an invaluable asset for businesses that want to stand out and take things to another level. With Fincra, businesses can get customised checkout for a consistent brand experience or explore our white-label solutions for seamless checkout integration into their app or website architecture. 
The internet is the biggest marketplace in the world, and Fincra Checkout propels businesses to reach more customers and ultimately enhance their financial outlook. 
Create an account with Fincra to get Checkout or speak to a sales rep for your customisation and white-label solutions.