An overarching strategy extends to every great and successful business: to connect with its customers. Business strategies certainly differ across sectors, but all aim to satisfy customers.
This idea is the reason people often say that the most successful businesses are the ones that have an obsession with their customers. Just offering high-quality products and services has never made great brands. What differentiates excellent businesses is how they prioritise meeting the needs and expectations of their customers and striving to provide a positive and seamless experience for them.
Having high-quality products and services, exceptional marketing and sales tactics etc., can get you customers; but what happens when those customers interact with your business? How did they feel about your brand? Was it easy for them to interact with your business, including making purchases and paying for goods or services?
These are the most critical questions that great and successful businesses have been able to answer. By focusing on their customers, the most successful businesses you know have built strong relationships with customers, differentiating them from their competitors and leading to increased customer satisfaction, loyalty, and sales.
One of the ways customers interact with businesses is how they pay for products and services. With payment being the main trigger for trade, businesses must provide the best payment experience possible.
Optimising customer payment experience will lead to customer satisfaction, increased sales, reduced cart abandonment and give you that competitive advantage.
One of the ways to optimise the customer payment experience is to provide different payment methods. With Fincra, businesses can provide this for their customers.
Fincra's Checkout, for example, has three different payment methods. Customers can pay with their cards, bank transfers and with PayAttitude.
It's not just for selling online; for in-person transactions, customers can pay with their cards, Mobile Money and bank transfers on Fincra POS Terminal.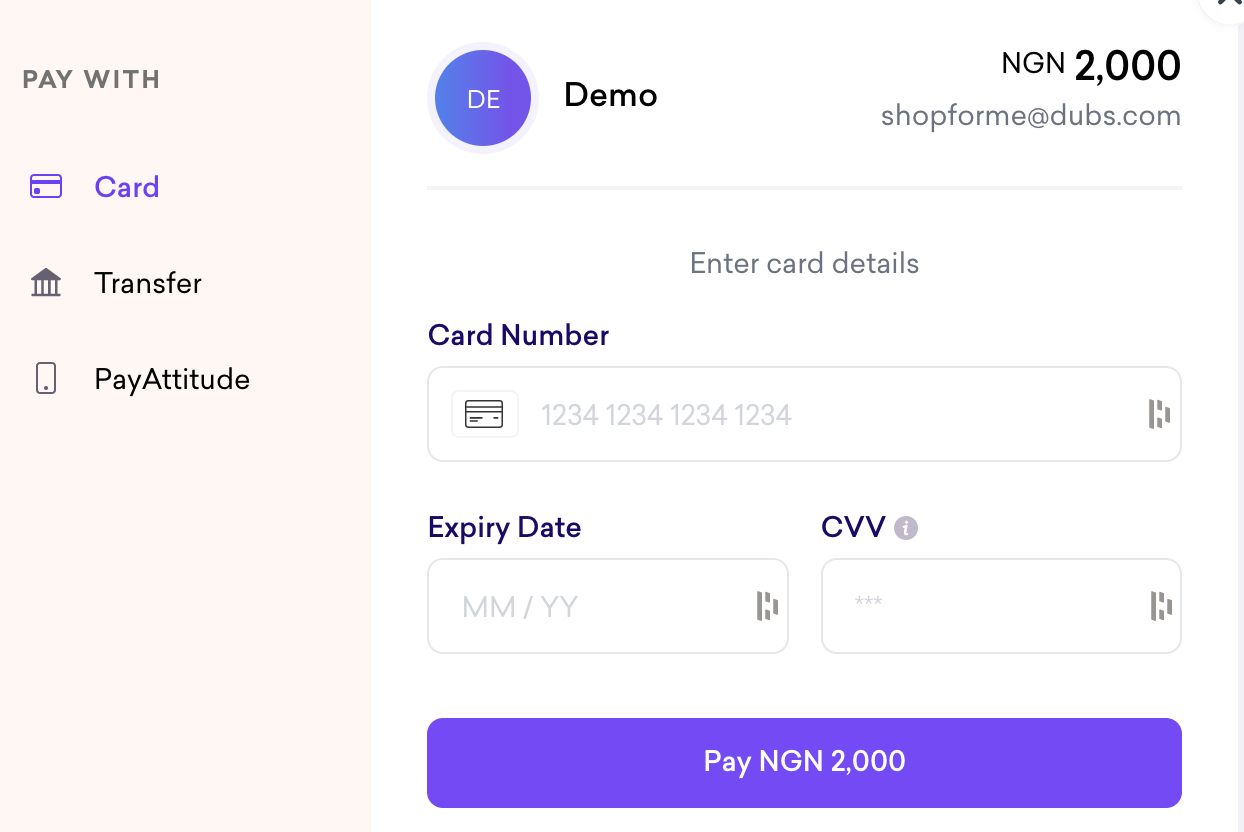 Benefits of Pay With Bank Transfer
These are five benefits of having Pay with Bank Transfer as a payment option.
Convenience
This benefit applies to offline transactions. It's a widespread scenario in brick-and-mortar stores in Nigeria when customers are often left stranded without cash or a card. Sometimes, businesses make these customers transfer to an account number and make them wait long minutes for confirmation.
It's different with Fincra POS Terminal, where a customer can use the Pay with Bank Transfer option and instantly gets a receipt. No long wait time while the cashier calls someone to confirm the payment. With Fincra, a POS terminal immediately confirms the transaction while the customer goes home happy.
Security and trust
Global (Nigeria definitely), many customers are still hesitant to enter their card details online due to concerns about security and the risk of fraud or identity theft. Although there have been technological advancements to ensure that customers' data are secured, the fears still won't go away.
This fear is why bank transfers are still widely used to pay for goods and services via the internet. Businesses that do not have that option on their Checkout flow risk losing those apprehensive customers.
Wide acceptance
Mckinsey, in a recent study, confirmed bank transfers to be one of Nigeria's most popular payment methods. It is widely accepted in Nigeria, and it makes no sense for businesses here not to have that option while selling online or offline.
No hidden fees
With bank transfers, customers do not get extra charges or fees beyond the standard bank fees. This transparency in costs gives customers the confidence always to use that option.
Easy tracking and reconciliation
Reconciling customer payments can be daunting for customers, but it's different with payment via bank transfers. Bank transfers involve a direct transfer of funds between two accounts, which makes it easy to track and reconcile.
It's even easier for businesses that use Fincra. Businesses that use Fincra to collect payments will see all their transactions on their Dashboard.
Do you have any questions about the Pay with Transfer option? Reach out to us here or create a free account to give that option to your customers.