Introduction
Getting paid is the goal of every business, but for retailers, payment collection isn't merely a transaction. The payment process profoundly shapes the customer experience. 
It might be the same for almost all types of businesses, but it's even more critical in retail, where time is of the essence due to high foot traffic and the expected speed of transactions. 
Adapting to evolving payment trends is essential for retailers to maintain a competitive edge and consistently deliver exceptional customer experiences.
In this article, we use analysis from Stears and data from prominent sources to identify and explore five key payment trends that retailers must closely monitor to ensure they remain at the forefront of the market. By doing so, they can get paid and create lasting and positive impressions on their customers.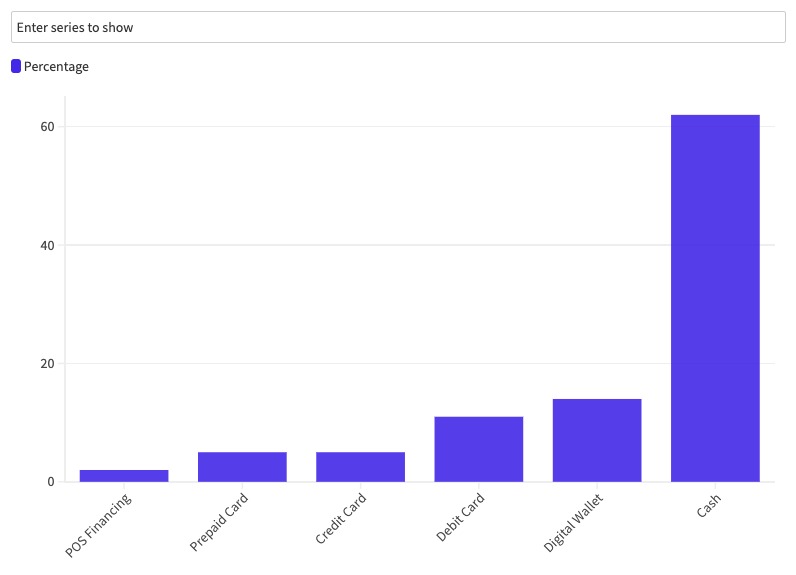 2. Nigerians love bank transfers
Bank transfer is Nigerians' favourite paying method, according to recent trends. Since 2021, bank transfers have surpassed card payments. 
Thanks to the good works of the Nigeria Inter-Bank Settlement System (NIBSS), which operates the Nigeria Central Switch (NCS), the highway that facilitates instant transfers. 
This technology has shaped consumer payment behaviour, allowing customers to make payments with the bank transfer method. 
The use cases for bank transfers are numerous; customers who do not trust digital payments enough to input their card details choose the pay with transfer option during online transactions. In offline situations, customers without cash or cards prefer to make payments with bank transfers. 
What does this mean for retailers?
Retailers must take advantage of customer preference and include pay with the transfer method in all their collection processes. 
With Fincra, retailers can collect online customer payments with a bank transfer method, which is embedded in our Checkout. 
For offline payments, Fincra enables POS terminals with pay with transfer method, eliminating long wait times with instant receipt to confirm the status of the transaction.
3. More POS payments 
POS terminals have become widely used for offline retail transactions, with terminals a popular sight in almost every formal retail situation. 
From Stears analysis, while ATM withdrawals have slowed down in recent years, Nigerians have been using other forms of physical card payments in POS terminals, with 216% growth between 2018-2022 of what they described as mobile agent payments. 
Mobile agent payments here also include POS terminals at storefronts. 
What does this mean for retailers?
POS payments are now a norm in retail, enabling quick card payments during in-person transactions. 
Fincra has POS Terminal solutions that allow retailers to collect card payments. Our solution also provides advanced analytics and an intuitive dashboard that displays real-time transactions, reporting and analytics from all POS points. 
4. Agency banking still in demand 
ATM withdrawals have continually slowed because Nigerians have embraced the convenience of bank agents, also called POS agents. 
Driven by the agency banking framework, financial institutions and banks now have human agents nationwide who help them deliver essential financial services. 
The most popular of these services is cash withdrawals, which has led commercial banks in Nigeria to shut down more than 200 branches and more than 600 ATMs in 2020. 
What does this mean for retailers?
The success of the agency banking model in Nigeria should be good news for retailers who can use their setup to launch another business. 
The low barrier to entry means that retailers, without much cost, can quickly set up to become agents alongside their existing trades. According to a June 2020 report by EFInA, 60% of Nigerian agent outlets operate agency businesses alongside their existing business.
Despite the success and popularity of the Agency Banking model, it has still not scratched the surface of its potential. There's more work to be done, and Fincra is at it. 
To further give access to financial services across the country, infrastructure is needed to make it easier for people to build agent networks.
So, one of the products we have at Fincra today is a white-labelled agency banking as a service platform. Fincra's solution allows retail businesses with distribution networks to roll out a robust Agency Banking network built on our infrastructure without a single line of code.
With this, retail businesses can add another revenue stream, increase customer satisfaction and improve financial inclusion. 
5. The problem with USSD payment
If customers are not utilising the option of paying with USSD, it's not your fault. The high fees associated with USSD payments have discouraged customers. 
After constant disagreement between banks and telcos over USSD fees, CBN introduced a flat USSD fee of ₦6.98 in March 2021. 
However, since CBN introduced this, monthly USSD transfers declined 24% between 2021 and December 2021. 
USSD technology was meant to include financially excluded groups as it doesn't require an internet connection or a smartphone. People in this group are typically low earners, and it's not surprising that current fees have discouraged users. 
What does it mean for retailers? 
USSD payment is no-longer serving its purpose and you are not missing out from anything if you do not have it in your payment collection process.