In delivering its services to customers, Glover has been able to provide satisfaction with Fincra as its payment partner.
Inventions and innovations of the digital age have impacted every aspect of life, including finance, where new technologies have driven the emergence of digital assets. With the widespread adoption of digital assets like cryptocurrencies, gift cards etc., the digital asset market is becoming integrated into the existing framework of traditional financial markets.
For example, the gift card market in Nigeria has been recording steady growth with a Compound Annual Growth Rate of 13% between 2017 and 2021, according to Research and Markets. A credible report predicted this growth to continue from $1435.0m in 2021 to $2583.9m by 2026.
The use cases for the gift card market in Nigeria and sub-Saharan Africa supports the predicted trends, with companies like Glover driving the adoption.
"We are changing the gift card sector one trade at a time" is how Glover tells of its vision. Founded in March 2021, Glover is a digital asset marketplace where people buy and sell digital assets like gift cards.
The use cases for trading gift cards have made this market impactful in Nigeria. Customers use it to go around the traditional banking system for remittance, cross-border payments, and payments.
David Isaiah, Glover's Marketing Manager, said;
"People are now relying heavily on gift cards to pay for certain things, and that has impacted on our market in terms of people we are servicing and the offers we provide."
"Equally, we have friends and family in the United States, United Kingdom and Europe sending gift cards to their loved ones in Nigeria. It might be a waste to people who  do not know how to use them, so our platform bridges that gap in terms of trading and giving cash in return."
Glover isn't just about gift cards; it also offers refill and airtime-to-cash services with impactful use cases.
The refill service aids customers in airtime, data top-off, and bill payments, including cable and electricity.
David Isaiah, Glover's Marketing Manager, said;
"Another product that impacted people in Nigeria largely is the airtime to cash. We have a lot of students whose parents send them airtime now and then, and they always have a platform where they can convert that airtime to money."
Customer satisfaction
In delivering its services to customers, Glover has been able to provide satisfaction with Fincra as its payment partner.
Glover settles these customers after a trade with Fincra Pay-Out, which ensures secure and seamless local and cross-border transfers to individuals and businesses in 150+ countries across Africa, Canada, the US, the UK, Europe and the rest of the world.
With Fincra Pay-Out,  businesses can make payments in several currencies including EUR, GBP, GHS and NGN. Glover uses Fincra Pay-Out in NGN.
Kachi Nwabugwu, Head of Product at Glover, says they are exploring expanding their use of Fincra's product.
"With Fincra, we have been able to satisfy our customers. Constantly making payouts successfully has greatly impacted our relationship with them. We have some other works in the pipeline, and with that, we are exploring using other Fincra products."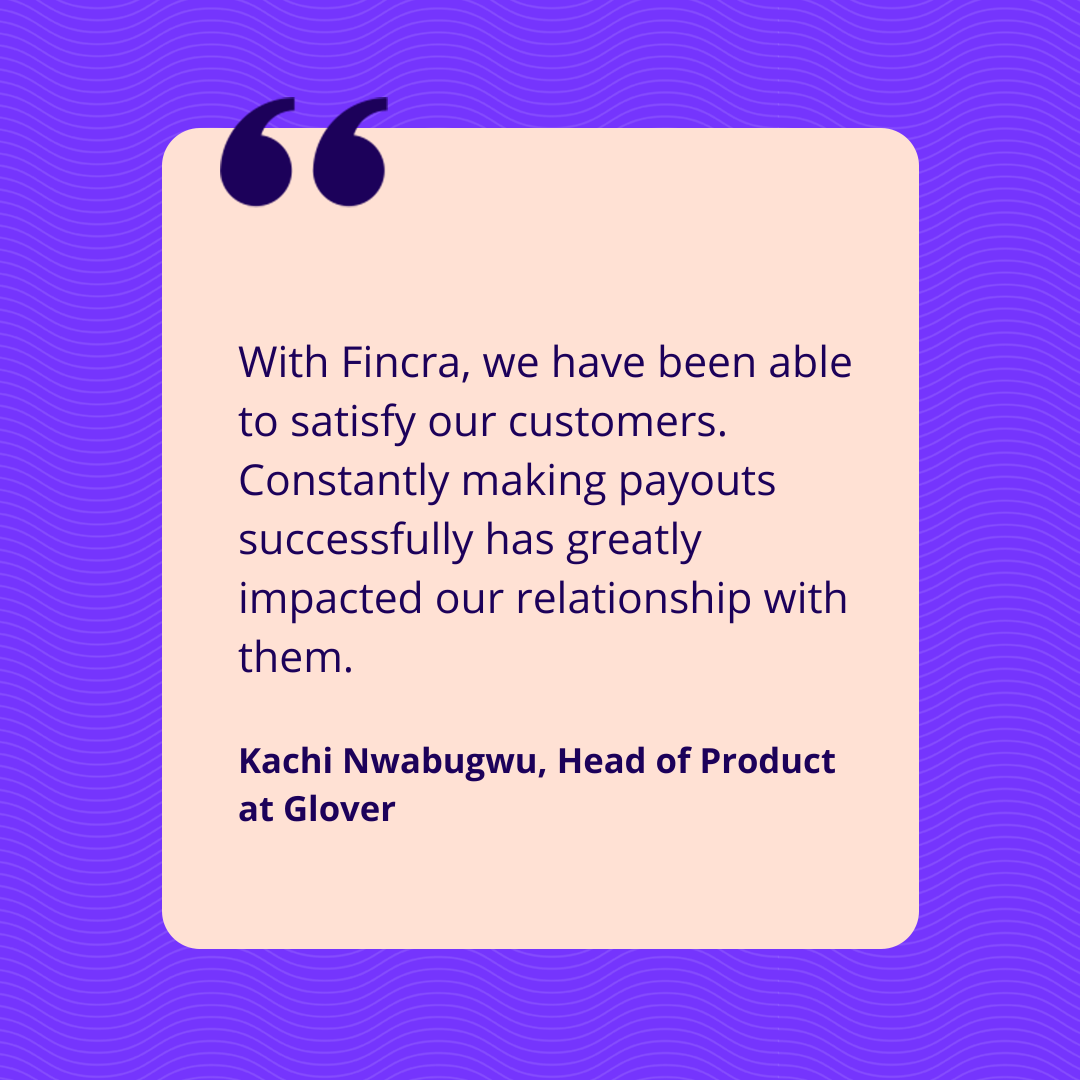 Just like Glover, online marketplaces can use Fincra Pay-Out to satisfy their customers and all disbursement needs.
There's also a variety of products that businesses can use to meet their payment needs. Please create a free account to see how Fincra works, or reach out to our team.