Introduction
In this intense and rapid growth business environment, enterprises are actively seeking ways to improve customer satisfaction and boost their chances of success. 
An essential component for achieving these goals in any business-retail and service-based- is a point-of-sale system. 
An all-in-one POS system is a comprehensive solution that combines hardware and software to power different functionalities  
This article will provide much-needed clarity on all-in-one POS systems.
Understanding all-in-one POS systems
Definition of an all-in-one POS system
The all-in-one POS system is a comprehensive solution that combines hardware and software to power different functionalities and features into a single integrated system. 
An all-in-one POS system performs several business functions like payment processing, inventory management, and sales tracking. These functions can help businesses to seamlessly close out transactions, streamline inventory management, and track sales and customer data leading to the ultimate experience for the customer. 
Components of an all-in-one POS system
An all-in-one POS system is made up of hardware and software.
The hardware can be the POS terminal that processes payments, touchscreen display for the customer interface, barcode scanner for inventory management, receipt printer etc.
The software component of an all-in-one POS system includes the operating system to power different functionality like payment processing, inventory management and sales/data tracking. 
The software component enables businesses to process transactions, generate reports, and perform other essential functions.
Fincra equips businesses with all the components of an all-in-one POS system for offline transactions.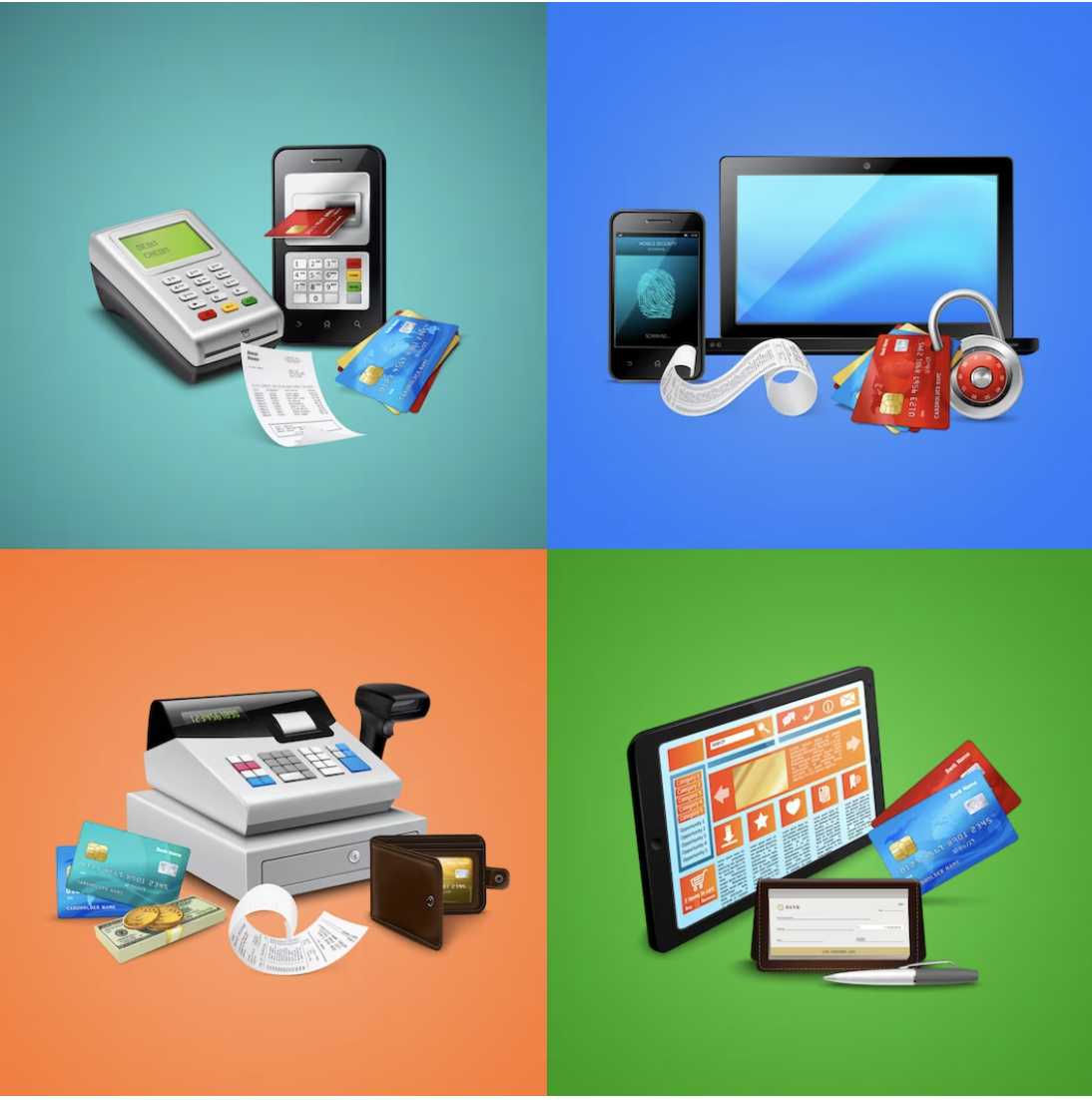 Key functionalities of an all-in-one POS system
An all-in-one POS system can perform different functions like the following; 
1. Transaction processing
The most widely recognised function of the POS system is payment processing. An all-in-one POS system allows businesses to process sales and collect payments seamlessly. 
You see cashiers at retail stores using a barcode scanner to check the prices of the items on a customer's shopping basket and using the screen to tally the shopping carts before employing a terminal to collect payments and a printer to generate receipts for the customers. 
2. Inventory management
This is another key function of an all-in-one POS system. This function automates inventory tracking, allowing businesses to keep track of their stock inventory to abound stock outs and streamline ordering processes. 
This function also helps businesses to understand customer buying patterns and have knowledge of the products that customers want the most. 
3. Sales reporting and analytics
With the different interactions possible within an all-in-one POS system, it can offer businesses detailed sales reports and analytics. 
These reports and analytics can provide insights into key performance indicators (KPIs) like sales revenue, top-selling products and consumer trends that businesses can use to identify growth opportunities and optimise pricing. 
4. Customer Relationship Management (CRM)
Businesses using POS systems to interact with customers at checkout can collect valuable customer information. 
Businesses can use all-in-one POS systems to track customers' purchase history and customer information, which they can use to optimise their marketing and customer service strategies. 
5. Integration with external systems
A reliable all-in-one POS system has the functionality to integrate with external systems to streamline operations. External systems include accounting software, e-commerce platforms, CRM software, etc., to help businesses synchronise data from different points. 
Benefits of all-in-one POS systems
The different functionalities of the all-in-one POS system discussed earlier in this article help businesses in several ways;
1. Streamlined operations
All-in-one POS systems use their different functionalities to help businesses simplify their operations by automating tasks and processes, saving time and resources and eliminating errors.  
a. Payment Processing
The payment processing functionality of an all-in-one POS system helps businesses to process offline transactions seamlessly by consolidating multiple tasks into one system. From tallying products to pricing and payment collection, an all-in-one POS system makes the checkout process easy and seamless. 
b. Inventory management 
An all-in-one POS system integrates with inventory features and helps businesses to track their stock levels and automate reordering processes. This eliminates costs and loss in revenue caused by overstocking and stockouts.
2. Enhanced customer experience
Several functionalities of an all-in-one POS system enhance customer's experience with businesses; 
a. Payment processing 
This functionality allows businesses to close sales quickly, quickening the checkout process and reducing customer wait time. 
Fincra's POS Terminal solution can help businesses enjoy this benefit. Our payment solution for POS systems is more than card payment which is the most popular form of payment on POS systems. Fincra POS Terminal solution has a pay-with-transfer option, allowing customers to pay without their cards quickly. 
This pay-with-transfer solution for POS systems differs from bank transfers, which usually frustrates customers with long waiting times before confirmation. With this pay-with-transfer solution on POS systems, the customers instantly get a receipt to confirm their transactions. 
This quick process enhances the customer experience and ensures businesses enjoy returned patronage. 
b. Inventory management 
With this functionality, an all-in-one POS system ensures businesses have an accurate stock of in-demand products. 
When customers always get what they want from a business, it enhances their experience with that particular business, leading to returned patronage, more sales and revenue. 
c. Customer relationship management 
All-in-one POS systems collect customer information that businesses can use for targeted marketing and personalised customer service, enhancing the customer experience.
3. Insightful data for growth
All-in-one POS systems provide businesses with comprehensive reporting and analytics capabilities, offering valuable insights into their operations. 
With the different data set that an all-in-one POS system generates, a business can make data-driven decision-making and help identify areas for growth. 
a. Inventory management
This functionality helps businesses with data on their best-performing products to aid their pricing and marketing decisions. 
b. Sales reporting and analytics 
All-in-one POS systems enable detailed sales reports, which give insights into KPIs. These insights can help businesses to identify growth opportunities. 
c. Customer relationship management
This functionality offers many insights into customer behaviour, buying habits and preference. This insightful information can help businesses to optimise for growth.
Key considerations when choosing an all-in-one POS system
1. Business type and industry requirements
Consider the business type and industry requirements when choosing an all-in POS system. 
Let's look at a few scenarios. 
Retail businesses need POS components like barcode scanners, functionalities like inventory management etc., while hospitality businesses will prioritise features like table management, split checks, kitchen integration etc. 
Travel businesses like airlines can use POS systems for ticket sales and reservations, while logistic businesses will prioritise mobile POS terminals to collect payments after delivery and use all-in-one POS systems to track delivery vehicles and routes.
2. Hardware and software integration
The type of hardware components and software needed are essential when choosing an all-in-one POS system. 
Retail outlets will need barcode scanners, while logistics businesses do not necessarily require that. 
Businesses must also make sure that the hardware components of their POS system must be compatible with the software., 
Another factor to consider is the ease of setup. Businesses that cannot afford technical experts must choose POS systems that only require a little technical expertise. 
Another factor to consider is the compatibility of the POS system with other systems. A retail business would need its POS system to be compatible with external systems like accounting software.
3. Payment processing and security
This is another crucial factor to consider while choosing an all-in-one POS system. With payment being a critical point in any business, getting a POS system that supports different payment methods is essential. 
Retail outlets, businesses in hospitality and travel, logistics and mobility, etc., must have different payment options on their all-in-one POS systems. 
Fincra has the perfect solution for this with our POS Terminal. Our solution powers businesses with different payment collection methods, such as accepting payments via cards or transfers. Processing multiple payment types enhances customer convenience and improves sales opportunities.
Security is also important to ensure the system provider meets the required standards. 
Fincra is PCI DSS compliance to ensure that all transactions are safe. 
Data security is another important thing to consider to ensure that the data of businesses and their customers are safe. Fincra has compliance status from the Nigeria Data Protection Regulation (NDPR). 
The world's best-known standards for information security, cybersecurity and privacy protection and business continuity practices of organisations have also certified Fincra's Information Security Management System (ISMS) and Business Continuity Management System (BCMS).
4. Pricing and Support
Pricing is important to consider when choosing a POS system provider. 
What works best for your business? Do you want a one-time payment or a transaction-based payment system? How much does it cost for an upgrade, maintenance or replacement? 
Ensure you communicate clearly with the provider to state your preference and agree on a fair deal. 
Another vital thing to remember is support and training. Can the system provider support your business with training and regular updates? 
Fincra, for example, offers excellent support for merchants who use our POS Terminal solution.
Fincra as an all-in-one POS systems provider
As this article has highlighted several times, Fincra has solutions to synchronise all POS components with one software, making it an all-in-one POS system for businesses. 
As a payment company, we primarily provide various payment collection options, such as paying with cards and transfers. 
Our solution also provides advanced analytics and an intuitive dashboard that displays real-time transactions, reporting and analytics from all POS points. 
Most importantly, Fincra's solution is customisable to meet the needs of any business and can integrate with other external software to streamline operations for businesses. 
FIncra has an exceptional support system to aid businesses during the implementation process, from installation and setup to training, onboarding, data migration, and integration.
Future trends in all-in-one POS systems
We look into the future at some trends in all-in-one POS systems that businesses should expect.
1. Artificial intelligence and machine learning applications
Artificial intelligence (AI) and machine learning (ML) already have several use cases in several industries. 
In payment, AI and ML are poised to play a significant role in the future of all-in-one POS systems. 
With this tech evolution, all-in-one POS systems can analyse large volumes of data collected from various sources, such as sales transactions, customer interactions, and inventory management. 
Businesses will access another level of data from the predictive analytics features of AI and ML.
For example, AI algorithms can offer personalised product recommendations based on customer preferences and buying patterns. 
AI-powered chatbots can enhance customer support by providing instant assistance and resolving queries. These advancements empower businesses to make data-driven decisions, improve operational efficiency, and deliver personalised experiences.
2. Contactless and biometric payment technologies
Contactless and biometric payment technologies are experiencing a surge in popularity worldwide. Contactless payments, facilitated through near-field communication (NFC) or mobile wallets, provide customers with a secure and convenient way to make payments without physical contact. 
While these technologies have gained prominence in more developed countries, Nigeria and other parts of Africa are still grappling with various challenges.
In Nigeria, the infrastructure for NFC payments is already in place. However, banks have been hesitant to activate it due to concerns about potential fraudulent activities. The Central Bank of Nigeria (CBN) is currently working on developing comprehensive guidelines for contactless payments, aiming to address these concerns and ensure the security and integrity of transactions.
Although contactless payment technology exists within Nigeria's payment ecosystem, the process still involves multiple authentication steps, deviating from the seamless tap-and-authorise experience expected with contactless payments. 
Banks are cautious about assuming liability in cases of fraud, particularly as they continue to contend with fraud related to traditional card payments, including chargeback claims.
While contactless and biometric payment technologies hold significant potential for Nigeria and Africa, there are ongoing considerations surrounding security, liability, and regulatory guidelines. 
As the Central Bank of Nigeria works towards establishing clear guidelines, it is anticipated that the adoption and implementation of contactless payment solutions will gather momentum, providing customers greater convenience and businesses with enhanced transactional security.
Conclusion
All-in-one POS systems are crucial to different operational spheres of businesses. From processing payments to inventory management and customer service, businesses need POS systems to streamline operations and maximise costs. 
With Fincra as a payment partner, businesses have little to worry about when setting up an all-in-one POS system. 
With our solution, businesses can access multiple customer payment channels and an intuitive dashboard that can display real-time transactions, reporting and analytics from all POS pay points and other integrated software. 
Take on Fincra today as your payment partner and enjoy the best experience with your POS system.