Introduction
With the advancements in e-commerce, businesses have found ways to sell online with a fully-fledged e-commerce website. There are several reasons why people sell online without a website.
There are cases of legacy businesses that have yet to adopt digital technology fully; there are small businesses that do not have the resources to build and manage websites; there are freelancers who do not really need it etc.
But how would these businesses get paid online in these instances? There is a payment link- a technology that allows businesses to accept online payment without a website.
This article details payment link generators and how businesses can use them to simplify payment processing.
What is a payment link generator?
A payment link generator is a software tool that providers use to generate a unique link for customers, usually businesses, to receive payments from their customers.
When businesses get a payment link from the providers, they share it with their customers at their point of contact, such as social media, messaging platforms, online marketplaces, etc., to make payments.
Benefits of a payment link generator
Using a payment link can be beneficial for businesses in several ways. We look at four benefits;
Easy to use
There's no complexity in the payment processes involving receiving payments with a link. The process is simple and convenient for businesses, from creating a payment link to sharing it with your customers. Without a line of code, businesses can create and share a payment link for customers to make payments seamlessly. Payment Links enhance the customer experience with an optimised process; customers do not need to create or enter their payment information multiple times.
2. Sell without a website
One of the most significant benefits and use cases for payment links is for businesses to sell without a website. This use case doesn't mean businesses with a functional website cannot use payment links; they can also use them to market and sell outside their website.
3. Customisable
A payment link is customisable for businesses to have their brands and logos represented. Things like descriptions, invoice numbers and other details improve the brand experience and help build trust with customers.
4. Optimised payment experience
With a payment link, the payment is optimised for customers, improving their experiences with your brand and turning them into returning customers. The improved experience starts with reaching the customer at their preferred channel and allows them to make payments without leaving that channel.
How to use a payment link generator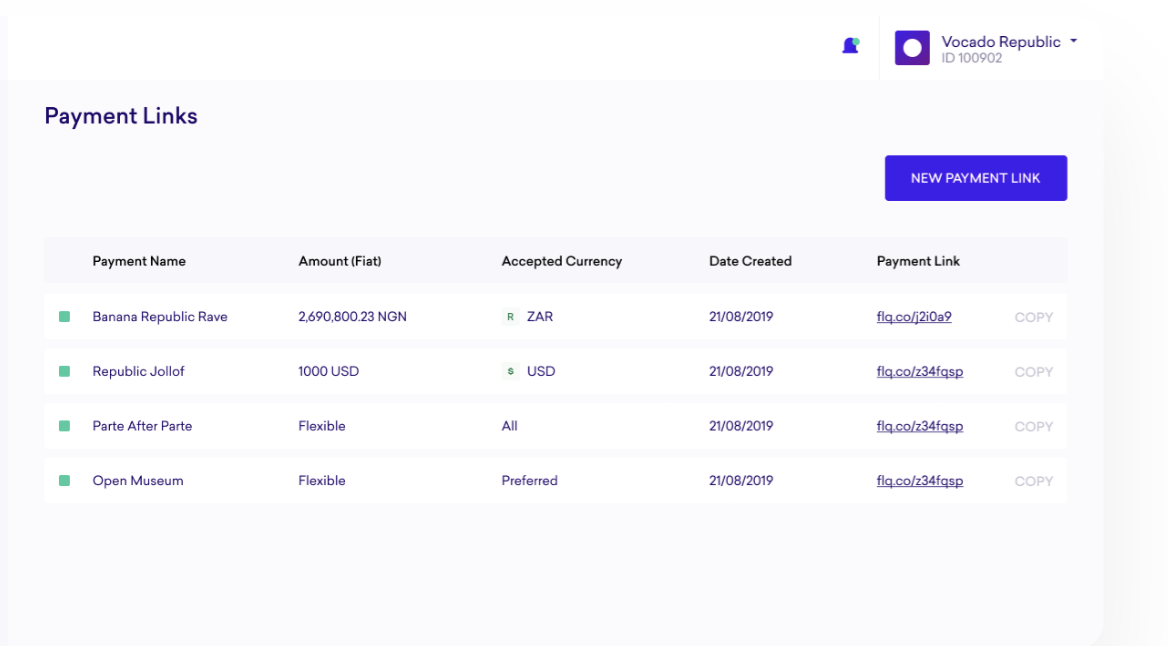 The first step in using a payment link generator is to get onboarded by a payment company like Fincra.
As part of our Pay-In products, Fincra has payment links for businesses to collect payments quickly.
With Fincra, businesses can generate a payment link anytime to sell and collect payment anywhere online.
These are the steps to use a payment generator with Fincra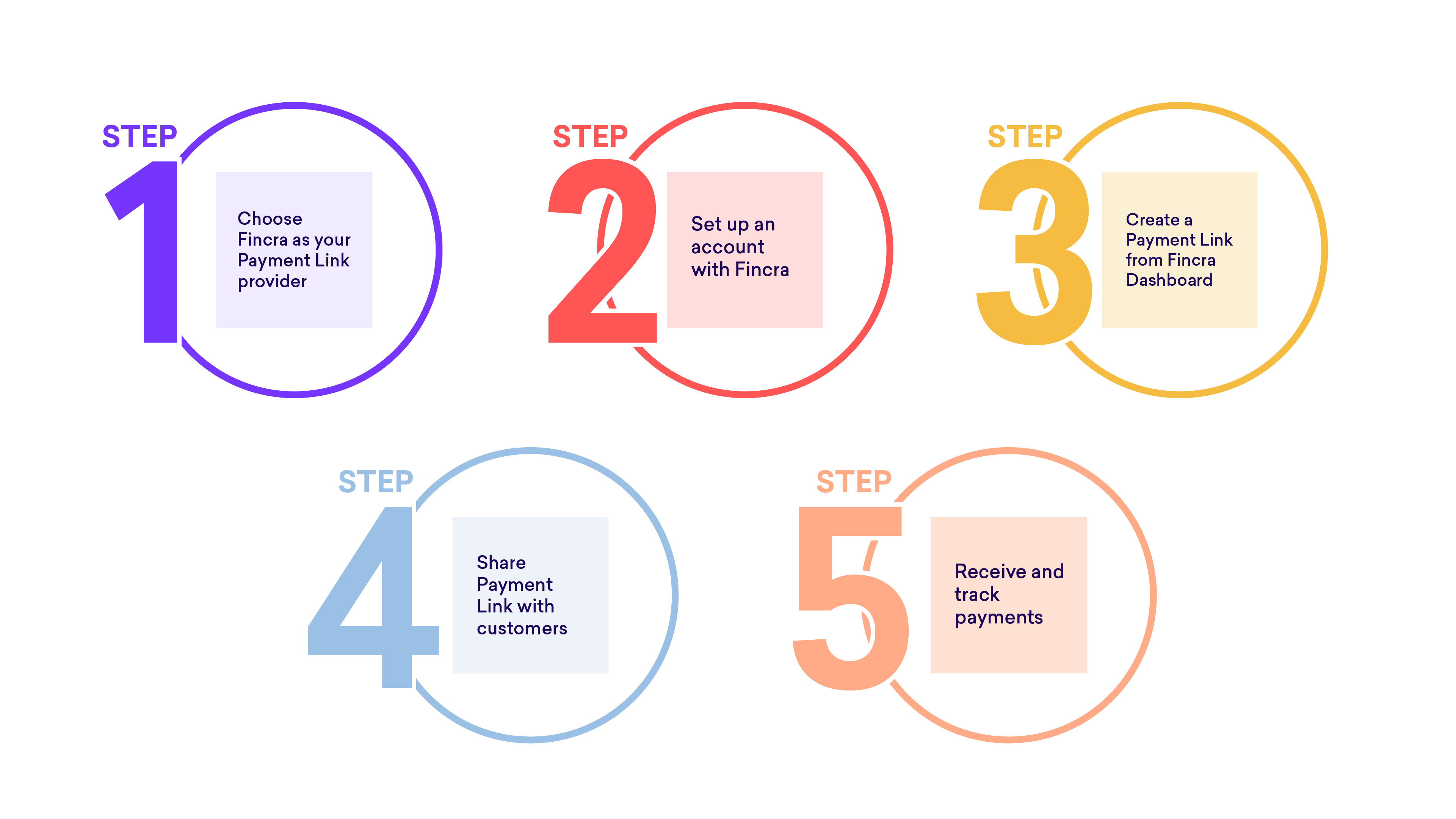 Step 1: Choose Fincra
For a start, businesses must choose Fincra as a payment partner. Fincra helps businesses with solutions to everything about payment, from collecting and making payments online and offline.
Step 2: Set up an account with Fincra
The next step is to set up an account with Fincra to generate Payment Links. Businesses must create a free account to access our Dashboard.
Step 3: Create a Payment Link
After creating an account and meeting all Know Your Customer (KYC) requirements, merchants can generate Payment Links from the Fincra Dashboard to start collecting payments.
Merchants can specify whatever needs they want to fulfil with the Payment Links to get the right one that suits their purpose.
Step 4: Share the Payment Link
After generating a Payment Link, merchants can share it with their customers to make payments.
Step 5: Receive and track payments
When customers receive and click on a Payment Link, they get a Checkout flow with all the available payment methods. Merchants can get notifications and track payments on their Fincra Dashboard when customers make payments.
Use cases for payment links
As mentioned earlier in this article, several use cases for payment links exist. Let's discuss some of them.
Small businesses: Small businesses can elevate their sales with payment links to simplify their payment process and receive payments more quickly.
Freelancers: Freelancers can use payment link generators to send invoices and receive payments for their services, eliminating the need for paper invoices and manual payment processing.
Non-profits: Payment links can help non-profits to accept donations and grants.
Social media sellers: Many businesses have mastered selling on social media. These businesses have gained customers and followers on social media and make sales. The regular practice has been using traditional bank accounts to receive payments. But with payment links, these sellers can optimise their payment and sell more.
Big businesses: There is a lot of legacy big businesses that have not fully adopted digital technology. The inability to sell from a website should not stop these businesses from selling online. With payment links, these businesses can take online orders and receive payment quickly.
Conclusion
Fincra provides payment link generators for businesses to create payment links and receive payments online.
The payment link generates a Checkout flow for businesses to receive payments with bank transfers, cards, mobile money and PayAttitude.
Businesses can create a free account to get payment links or speak to a rep to learn more about Fincra.