Although often not heralded, customer service has proven to be a powerful tool for businesses across different segments in today's challenging business environment. Fostering brand loyalty and high customer retention rates go beyond the quality of products or services that companies offer. Customer service is the critical influencer for how people feel when they use your product or service.
In the financial sector, where the stakes are high, fintechs like Fincra use their customer service strategies to transform how customers engage with their services.
Customer Service has been a trending topic throughout the week as it is Customer Service Week, an international celebration that calls attention to the importance of customer service and the people that provide it.
To mark this year's Customer Service Week, I want to discuss what customer service means to us at Fincra.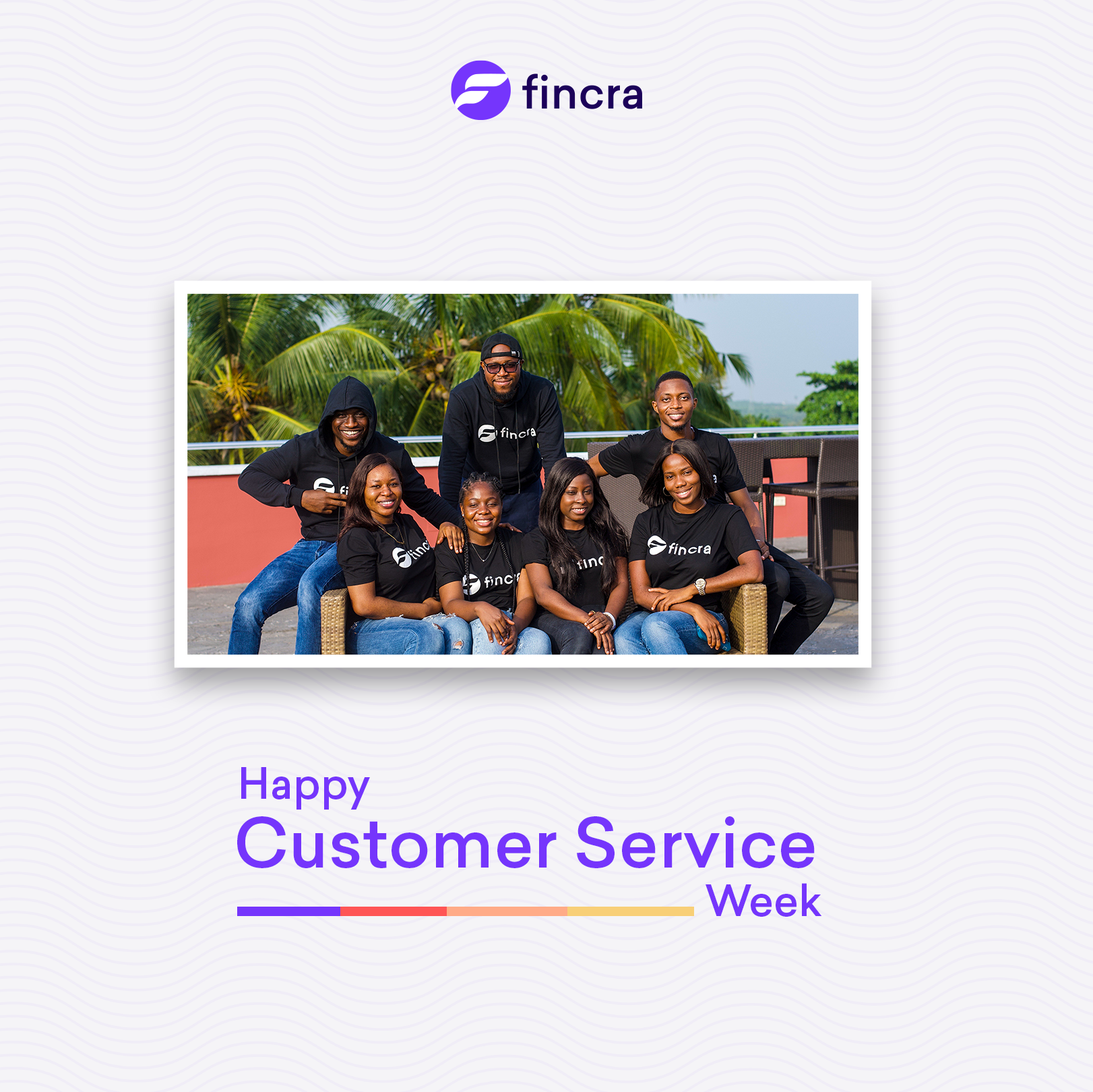 Fincra joins companies all over the world to celebrate Customer Service Week
At Fincra, I lead the Merchant Success team, which runs a fantastic support operation for merchants in the fastest time possible.
Task overview
As the Merchant Success team for Fincra, our task is to manage the overall experience of a Fincra merchant regardless of the product or service they are trying to access.
Overall experience means that we don't only look at Merchant Success as just support; we look at the merchant experience throughout their journey with the brand. From awareness to consideration and decision stages before their experience with integrating and becoming customers for life. We also manage post-sale activities, and that is where support comes in.
So think from a strategic standpoint. We implement processes and initiatives to ensure that our merchants enjoy an excellent experience and derive value from using our products.
How we drive growth at Fincra
The Merchant Success team contributes to the overall business stability and growth of Fincra by retaining customers.
For businesses globally, customer retention is more complicated than acquisition. So we ensure that the customer retention rates are high and that the customers who are existing clients are constantly contributing to the bottom line, which is the revenue.
Another thing is brand perception; word of mouth is critical. We try to keep our merchants happy and our satisfaction score up so that when our merchants speak of us publicly, within their cycles, they have good things to say, which influences the brand perception of Fincra.
Metrics
The Merchant Success team measures retention rate,  customer satisfaction, net promoter score, and customer effort score, which measures how easy or difficult it is for our merchants to use our products.
We also measure our integration experience and the rating of our API Documentation.
How do we get feedback from customers?
The merchant success team has created several listening parts, one of which is the Merchant Enablement series, where we gather our merchants, listen to their opinions and views of the product, and share where we can improve our products and offerings. This series has significantly shaped how we drive our Product, Design and Engineering teams.
We have created different listening parts such as our survey, our enablement series with our merchants, and random conversations like informal listening parts and even complaints.
Sometimes feedback is not as positive as we want. Still, these complaints are the information and hard data we gather and use to implement the improvement we have on our products and initiative for new features across our product lines.
How we communicate with customers
At Fincra and within the merchant success team, we humanised customer support by providing personalised service, which is rare in the support industry.
These personalised messages are not just from generic support people; they are trained to be able to provide both first-level and second-level support. Our first call resolution (FCR) is relatively high to a reasonable extent.
We have also created an omni-channel approach to customer support. Customers do not only reach us via phone call; they can also contact us via email, chat, in-dashboard messages and their private slack messages that we set up for them. We have also introduced them to personal engineering and technical support to help them solve their issues.
How we deal with an unhappy merchant
We are obsessed with our customers, and when customers are unhappy, we are disappointed. That level of empathy as a team helps us deal with customers who are not as excited as we want them to be.
We deal with them by ensuring we acknowledge their complaint as swiftly as possible.
We also open up the communication line so we are not rigid regarding unhappy customers. We ensure an inclusive conversation as soon as we find out a customer is dissatisfied. We try to open up the communication line to our internal stakeholders or other teams who play a role in ensuring satisfaction by including them in the conversation and setting up one-on-one meetings.
The customer feels valued, important, recognised and acknowledged. We also try to ensure that our resolution time is as fast as we can make them, which sort of reduces customer dissatisfaction.
Use of data
We use data for service improvement; this means tracking the timing of our customer responses and the volume of specific types of complaints or enquiries. We take and analyse this data and use it to improve service at baseline.
Another way we use data is to interact with our stakeholders across the customer lifecycle. Engineering is one team that we use data to interact with a lot.
When we get specific complaints, we gather the data, analyse it and present it to the engineering team, which in turn uses this to fix bugs, manage incidents and even plan upgrades.
We also use data for business improvement, so our retention scores, for instance, are directly linked to revenue growth; the more we retain customers, the happier our customers are with customer satisfaction. We see that impact in our revenue growth trajectory of the business.
Empathy drives one of our core values
At the core of it, empathy drives one of Fincra's core values, customer obsession. So for a brand already customer-obsessed, the culture is driven down into the merchant success team.
Empathy comes naturally to us because we always look for ways to make the customer happy. And if the customer is not pleased, we are also not satisfied, which drives us to want to provide better service and go the extra mile every time. Customers can also recognise that we are constantly looking to improve how they feel about us and interact with us as we deliver service. That's the role that empathy plays. It helps us to be human to our customers.