Agency Banking was developed in the mid-2000s as economically developing countries sought ways for everyone to access financial services. The idea behind making financial services accessible to everyone is called financial inclusion. It plays a significant role in promoting economic development and reducing poverty by increasing trade and economic activities.
This concept of banking has been an instant hit, especially in Africa. M-Pesa had a hugely successful outreach in Kenya, while fintech startups have replicated this model across sub-Saharan Africa.
In 2013, Nigeria joined the craze when the Central Bank of Nigeria (CBN) released guidelines on how institutions can the operate and manage Agent Banking. The success story of the Agency Banking model has also applied to Nigeria, where it has dominated the financial ecosystem.
In this article, we will discuss why Agency Banking has been a successful model of financial service in Nigeria, the many opportunities it presents and how Fincra can help.
What is Agency Banking
Agency Banking is a banking model involving a business, bank or financial institution delivering permitted financial services outside their traditional places of business through third-party agents to last-mile end users.
The last mile here refers to why these businesses, banks and financial institutions would not traditionally reach. People who live in these last-mile areas-rural and semi-urban areas- often need access to financial services because traditional banks need more reach to serve them. It is important to note that Agency Banking also serves people in urban areas.
Another thing to note about Agency Banking is that these agents only deliver restricted financial services. This restriction is because last-mile banking often happens without proper Know Your Customer (KYC) checks. With constant innovations around KYC checks, institutions can provide more high-level financial services like loans and insurance through agents.
The Agency Banking model of delivering financial services has worked in Nigeria because banks and financial institutions were concentrated in urban centres, leaving many in semi-urban areas unattended.
These days, it's an entirely different story. Now, instead of splashing huge cash on the cost of setting up brick-and-mortar branches, banks have been able to serve and reach more customers across Nigeria with the help of agents.
Look at a 2020 report from the International Monetary Fund (IMF) that revealed that commercial banks in Nigeria shut down more than 200 branches and more than 600 Automated Teller Machines (ATMs) in that year. The data suggests that banks are making more use of agents. Other factors, like the rise in digital and mobile banking solutions, have contributed to this.
Aside from banks using this model to expand their retail banking operations, fintech startups and businesses with distribution networks also use this model to offer financial services.
Factors fuelling the rise Agency Banking in Nigeria
Two factors have fuelled the rise of Agency Banking in Nigeria.
Ease of becoming an agent
The ease of becoming an agent for a financial institution or bank has made Agency Banking very popular. The low barrier entry has seen anyone with a shop or a mobile set-up serve as an agent for a bank or mobile payments company.
Small-time traders can even become agents alongside their existing trades. With a POS, these traders can onboard with a financial institution or super agent with POS devices and deliver financial services. According to a June 2020 report by EFInA, 60% of Nigerian agent outlets operate agency businesses alongside their existing business.
These agents can also deliver financial services for more than one bank or financial institution.
Cheap means of delivering financial services
The Agency Banking model has not benefited just the agents; banks and financial institutions save more money and time in setting up Agency Banking platforms. It's way cheaper and more efficient to use the Agency Banking model to expand their operations than the traditional way of opening and operating branches all over the country.
Benefits of Agent Banking
As discussed earlier, Agency Banking has benefited everyone in the ecosystem. From banks to financial institutions, fintechs, businesses and the general public.
We look at some of these benefits;
Improved financial inclusion
With Agency Banking, the typically unbanked population has now had access to essential financial services. When CBN established the framework behind Agency Banking, their goal was to improve financial inclusion, and they have done it.
The EFInAAcess to Financial Services in Nigeria study shows that more than half of Nigerian adults (51%) were using formal financial services such as banks, microfinance banks, mobile money, insurance or pension accounts. The 51% was an increase from 49% in 2018.
As we have said earlier, the Agent Banking model has been cost-effective for banks. It has been more accessible and cheaper for banks to use agents to deliver financial services to the last mile instead of setting up traditional brick-and-mortar branches to expand to more areas.
Increased customer satisfaction
With agents delivering financial services to the last miles, more customers are getting financial services at their convenience. No long journeys and queues to the banks.
With banks, financial institutions and fintechs serving more customers, they are getting more revenues. It's the same for individuals and businesses who set up Agency Banking businesses.
Generally, financial inclusion improves the economy. With more people getting access to credit, there are more economic activities to boost the economy. Agency Banking has given more job opportunities to Nigerians.
Agency Banking businesses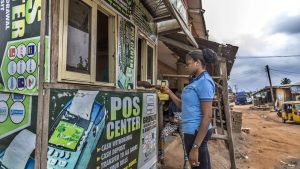 Earlier, we talked about how Agency Banking has empowered individuals and businesses and how easy it is to become an agent. Agency Banking has empowered many with jobs and continues to generate income for many Nigerians.
With just a Point-of-Sale device, people all over the country have gained employment and earned a living.
The everyday use cases of POS and mPOS businesses in Nigeria are numerous. There are a dime a dozen everywhere; in rural, semi-urban and even urban areas in Nigeria. People hardly visit banks for basic financial transactions; they get to a POS show nearby and get what they need.
POS systems help local debit cardholders withdraw money and pay for goods and services. The popular payment model of these POS businesses has brought banks to every corner store and street in Nigeria. Instead of visiting banks, people now go to these POS businesses to perform transactions.
This type of business has gained popularity partly due to the high employment rate in Nigeria. While people run this business as their primary source of income, others add it as part of their existing businesses, mainly retail.
From mainly makeshift and small stores, these businesses provide banking services, including cash deposits and withdrawals, fund transfers, bill payments, airtime recharge and other related services.
POS transactions are straightforward; The POS operator inserts the debit card into the terminal and asks the customers to enter their four-digit PIN to authorise the transaction.
The terminal completes the transaction using mobile data and prints a confirmation receipt. The receipt can either be a 'declined' or a 'completed' transaction.
These agents earn income from commissions from transactions. Cash withdrawal via a POS typically costs about N100 for every N5000 in Nigeria.
The commission does not go to the agents alone; they share it in a suitable sharing formula with their super agents and financial institutions.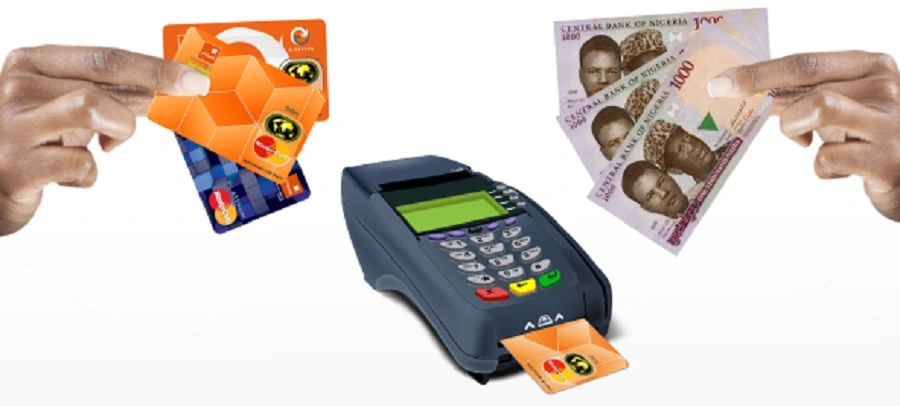 Agency Banking Services
Agents offer customers a slew of financial services, from cash-in and cash-out services to utility payments, loans and insurance.
The most popular use case for Agency Banking in Nigeria is the cash-in, cash-out service. Cash-in and Cash-out service in English terms refer to the deposit and withdrawal of money.
Instead of going to the bank or using ATMs, customers walk to a nearby agent and use their cards to withdraw cash.
Fincra's solution
Despite the success and popularity of the Agency Banking model, it has still not scratched the surface of its potential. There's more work to be done, and Fincra is at it. We have continued to see the rise and growth of financial services distributed offline.
To further give access to financial services across the country, infrastructure is needed to make it easier for people to build agent networks.
So one of the products we have at Fincra today is a white-labelled agency banking as a service platform. Fincra's solution allows banks, financial institutions and businesses with distribution networks to roll out a robust Agency Banking network built on our infrastructure without a single line of code.
What is white labelling
White labelling means buying a product or service from a manufacturer and selling it at yours after rebranding to fit your brand. The rebranding can come from the manufacturer who uses the brand of the purchaser.
With Fincra's white-label solution for Agency Banking, we build solutions for platforms to launch their branchless strategy.
API
Fincra also provides Agency Banking solutions via APIs to power an agency network. Fincra also has APIs to call apps that can aid Agency Banking networks- cashout services, Virtual Accounts, transfers, Bills payments, airtime, betting, insurance, etc.
FAQs about Agency Banking
What is Agency Banking
Agency Banking is a banking model where financial institutions, banks and even businesses use third-party agents, such as retail outlets or individuals, to provide banking services on their behalf.
What services can be provided through Agency Banking?
Agency Banking agents provide a slew of services, from cash-in, and cash-out services, account opening, deposits and withdrawals, account balance inquiries, and bill payments.
Are Agency Banking transactions secure?
Agency Banking transactions are secure. Banks have put in place security measures to protect customers' personal and financial information. Additionally, transactions are tracked and can be audited for fraud detection and prevention.
What are the benefits of Agency Banking?
Agency Banking has several benefits for everyone in the ecosystem.
It provides customers access to banking services, especially in remote or underserved areas.
It provides convenience for customers who can get financial services at a location close to them instead of visiting a bank branch.
It improves financial inclusion and helps the economy.
Reduces cost of operations for banks
It helps banks and platforms to make more revenue by reaching more customers.
It helps people to get a job and earn a living for themselves.
It helps existing businesses add another stream of revenue.
Who can become an Agency Banking agent?
Any individual or retail outlet that meets the requirements set by the bank, financial institution and businesses can become an Agency Banking agent. The conditions are usually moderate; opening an account with the bank, owning a POS and getting a stand to deliver your services.
Are there any fees associated with using Agency Banking services?
It depends on the bank and the services being provided. Some banks may charge fees for certain services, such as account opening or maintenance. It's important to check with the bank for information on any fees that may be associated with using Agency Banking services.
How does Fincra come in?
Fincra's Agency Banking solution can help banks, fintechs and businesses with the infrastructure to launch their Agency Banking businesses. With our white-label solution, anyone can launch their Agency Banking businesses in a week. Fincra also has APIs for support services.
Does Fincra give out POS devices?
Yes, Fincra can give out POS devices for businesses, banks or fintechs to run their Agency Banking businesses at a cost.
Does Fincra work with agents?
Fincra does not work with agents; Fincra's Agency Banking solutions are for banks, fintechs, businesses or anyone with a network of agents they can work with.
Conclusion
While Agency Banking has been wildly successful and accepted in Nigeria, more work still needs to be done. The unbanked population in Nigeria is still at an uncomfortably high level, and Agency Banking is the simplest way to solve that problem.
Fincra has solutions to help anyone who wants to use the Agency Banking model to reach more customers.
Talk to us today about your Agency Banking needs, or just get started yourself.