The use of cards for payments is as old as the hills. It started with credit cards which a bank first introduced in the 1950s as a convenient way for customers to make purchases in New York restaurants on credit.
There was an evolution in the 1980s when banks introduced debit cards. Unlike credit cards, banks link debit cards to a customer's account, from where they deduct funds when that customer makes payments or purchases. With debit cards, customers can spend their money, while credit cards allow people to make payments and purchases on credit.
Since the inception of the idea of cards, it has been beneficial to businesses by providing a convenient way for customers to make payments and complete transactions.
Online use cases for card transactions
The use cases for cards as a means of payment evolved as the advent of the internet revolutionised the way businesses operate. The internet presented a new world of possibilities and opportunities for businesses. The world became smaller, and borders weren't much of a barrier to trade anymore. Businesses could sell from anywhere to anyone around the world with customers making purchases from their computers and mobile devices.
With the new reality of e-commerce, there was a need for secure card transactions to facilitate businesses. In those early days of e-commerce, several security concerns made customers hesitant to use their cards to make online purchases.
Card processing companies have solved this challenge by providing the necessary infrastructure and services for secure online card transactions.
The use case for card processing has been for more than just online transactions; card processing also facilitates offline transactions. Point-of-Sale Terminals and card readers are examples of businesses using cards for offline transactions.
Card processing companies
Card processing companies build the infrastructure that allows businesses to accept customer card (credit and debit) payments. This infrastructure acts as the middleman and facilitates the transfer of funds from the customer's account to the business' account.
It follows a process;
A customer makes a payment using a card- inputs card details on a hosted payment form for online transactions or swipes the card on POS Terminal or other card readers during offline transactions.
The card processing company processes the information that is passing to the customer's bank to verify that the account is authorised to perform that transaction and that sufficient funds are available to cover the payment. Here, the processor uses its encryption technology to secure and protect the customer's sensitive payment information.
The card processing also returns information regarding the transaction's status to the merchant. Has it been approved or declined?
The bank transfers funds from the customer's account to the merchant's account.
After the transfer, the card processor deducts its transaction fees from the funds and sends the remaining amount to the merchant.
Purchase completed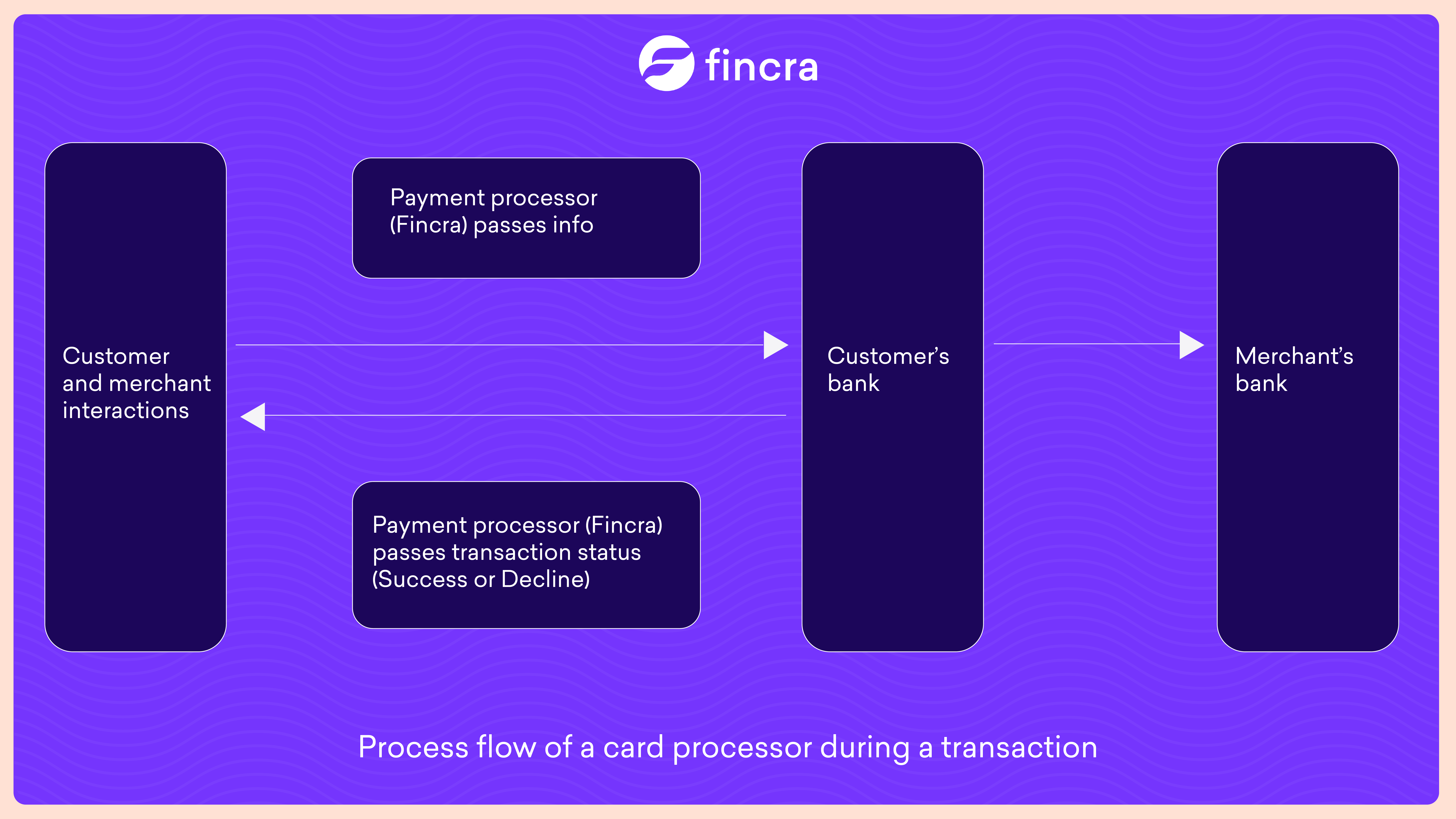 Key parties in the card processing process
There are several critical parties involved in the card processing process highlighted above;
Merchants: These are the businesses that accept card payments from customers. From retail stores to online businesses, services providers etc.
Card processors/Acquirers: The merchants must have an account with an acquirer, the financial institution that processes card payments. These are the card processors.
Issuers: These are the financial institutions issuing cards to customers used for these transactions. They approve the status of the transactions which are processed.
Networks: These systems relay the information between parties in the card processing process. These systems pass data between the merchant, the acquirer and the issuer. Visa and MasterCard are some of the most popular networks.
Card processing in Africa
Businesses used card processors to facilitate online and offline payments before the advent of local solutions in Africa.
For offline transactions, many African businesses relied on POS Terminals only linked with international card processors and payment networks. However, these solutions were expensive, with high transaction fees that burdened small businesses. Additionally, many of those terminals could not process transactions in local currencies.
It was the same for online transactions; many African businesses relied on international card processing companies like PayPal. There were also several hindrances, like the inability of these companies to process payments in local currencies.
Fincra as a card-processing company
All these have changed in recent years with the emergence of local solutions helping businesses across Africa to process card transactions. Fincra is one of them.
Fincra is a payment infrastructure company that processes card transactions for businesses. Fincra authorises, clears and settles card transactions for businesses, ensuring that they get paid quickly and satisfy their customers.
Aside from being a card processor, Fincra also provides a range of additional payment services for businesses, such as fraud prevention, chargeback management and reporting.
Fincra also provides online payment gateways for businesses online to accept payments. Fincra's payment gateway product, Checkout, allows customers to pay with their cards.
For offline transactions, Fincra processes card payments through its POS Terminals-we provide the terminals or APIs for businesses to collect in-person payments.
Fincra is PCI-DSS compliant, which means we have satisfied the highest standard of security audit as a card processor. Customers' data is 100% safe and protected on Fincra.
Are you a business looking for solutions to accept card payments online or for POS Terminals for brick-and-mortar stores? Fincra is here for you.
Create a free account in three minutes to get started.
Other card processing companies in Africa
There are several other card processing companies in Africa; Interswitch, Flutterwave, Paystack, Paga, eTranzact, and 2Checkout, to mention a few.
Importance of card processing for business
Card processing companies are significant for businesses of all sizes and sectors. These are some of the reason card processing companies are important for businesses;
Increased sales
As explained earlier, card processing companies help businesses process card payments. This means that these processors allow businesses to accept cards as a form of payment, either online or offline.
This option of paying with cards opens businesses up for customers who prefer that option, thereby increasing sales and revenue to the merchants.
The customer appetite suggests that card transactions are among the most popular. Take Nigeria, for example; in a January 2023 report ,Argus Advisory predicted debit card purchase volume for POS to double its 2021 figure by 2024, same for BC2 e-commerce. Regarding card circulation, Nigeria has one of the largest payment-cards markets in sub-Saharan Africa. In 2021, the value of card transactions in the Nigeria's cards and payment market was $18.9 billion and expected to grow at a CAGR of more than 18% before 2025 according to another study.
Imagine not having that payment option for your customers; you will miss out on a large chunk of the market.
There's also the benefit of convenience that the option of paying with cards brings for businesses. Fantastic processors optimise the Checkout experience for your customers, increasing customer loyalty, satisfaction and retention.
Fraud Protection
With card processors, businesses and customers do not need to worry about fraud. Card processors offer fraud detection and prevention services that can help businesses prevent financial loss.
Improved cash flow
Increased sales and financial loss prevention help businesses improve their cash flow. Card processors help businesses to improve cash flow by helping with the payment collection process. Businesses increase their cash flows when they can quickly collect payments.
By helping to secure card transactions and protecting sensitive card information, card processors help businesses to avoid financial losses, which also increases cash flow.
Conclusion
Card processors are crucial for online and offline businesses today. Businesses can increase sales, prevent financial loss caused by fraud and improve cash flow when they partner and work with a competent card processing company.
That competent processing company is Fincra. With payment being critical in trade, Fincra is a business's ideal payment partner.
Fincra have the licenses to process cards for businesses in Nigeria and several countries across Africa and has been certified by the world's best-known standard for compliance, information security, cybersecurity, privacy protection and business continuity practices of an organisation.
Create a free account for Fincra to process card payments for you, or speak to a rep for more information.