Our engineering and product teams just made some amazing updates to some of our products, and we couldn't wait to share them with you.
In line with Fincra's mission to make payments easy and seamless for businesses across Africa, we are constantly working towards solutions to our customers' and merchants' delight.
Our engineering and product teams just made some amazing updates to some of our products, and we couldn't wait to share them with you.
Fincra has a new checkout feature to help businesses increase their revenues by selling faster. With this feature, payment collection just got easier on Fincra as your customers can make payments seamlessly through their debit/credit cards or bank transfers.
When you successfully collect payments, this feature settles them to your preferred destination- your Fincra wallet or your bank account.
You can access this feature by creating sharable payment links on your dashboard or embedding payment buttons on your platform.
New and improved Virtual Accounts request
With your GBP and EUR virtual account request, we want it to be faster and easier for you. With this new update, no need to wait for an admin to approve your requests; you can now have your Virtual Accounts approved instantly as soon as you upload all supporting documents via API.
When requesting NGN Virtual Accounts via the merchant dashboard or API, there is an option to choose your preferred bank with Wema Bank and VFD available.
Resolving disputes concerning purchases from customers shouldn't be a hassle. With our new update on our chargeback management, you can now view and respond to requests directly from your merchant dashboard, making managing these requests more effortless and faster.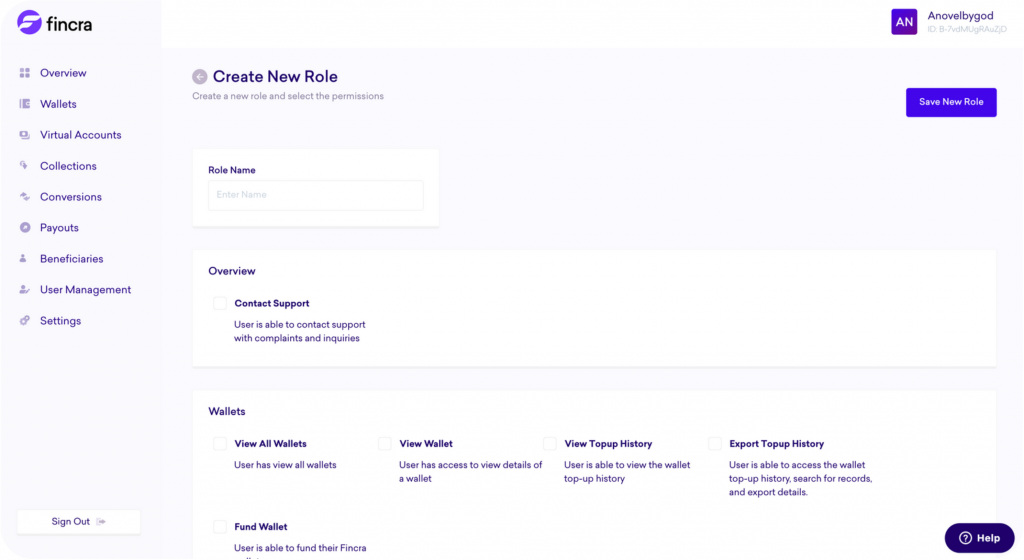 We have introduced improved user roles and permissions to the Fincra merchant dashboard with this new revamp. You now have more control over users and their roles on the dashboard.
Merchants can manage users, assign roles to users, and assign functions to the roles. Merchants can do this by themselves.
These users that the merchants have created and assigned roles to can log in to the dashboard with their unique passwords but only perform the roles assigned.
Payouts in KES and GHS are now available
We want our merchants to have more relationships with partners in Kenya and Ghana, and we have unlocked KES and GHS for payouts.
In addition to EUR, GBP, and NGN payouts, you can now make quick and easy payouts in these new currencies.
As a reminder, here are some of the things you can do with Fincra at the moment:
Quick payment collections for services with Virtual Accounts in, EUR, GBP and NGN  with easy settlement into wallets and no hidden fees or the headaches of international banking.
Seamless Payouts across over 30 countries for international transactions and domestic payments.
Integrate to our APIs seamlessly as a developer or fintech to incorporate local and cross-border payment functionality into your applications.
Let us know if you need anything at: fincra.com/contact-us.
Feel free to also visit our website, connect with us on Linkedin, Twitter, Instagram and Facebook and subscribe to our YouTube channel to view insightful tutorials on how to use our products.