With Fincra Pay with Bank Transfer, reconciliation and analysis are easy as all transactions appear on the Fincra Dashboard.
There are several reasons why Africa's uptake of digital payments is among the quickest in the world. Although Africa still has the lowest number of internet connections among all the continents in the world, it still has the most considerable potential for progress. First because of its continued growing population-set to hit 1.7b by 2030- secondly because of the number of its young population, the most in the world and thirdly, its rapidly increasing mobile penetration, the fastest growing in the world.
These factors have made online shopping popular in Africa and reshaped the retail distribution chain. Online shopping is contending with traditional mortar-brick shopping, a development that started with the more advanced economies but is gaining much ground in Africa.
As this phenomenon is gradually becoming the next frontier of growth for Africa and the global economy, paytech has become a significant sub-sector of the fintech industry. Driven by the increased adoption of online shopping, the online payment industry has experienced exponential growth.
Aided by fintechs, the industry has been striving to keep pace with customers' expectations for speed, ease of use and various payment methods for online shopping to be sustainable in Africa.
Online payment methods
One of the best ways to meet the increased demands is to help businesses provide different payment methods to their customers. A payment company like Fincra can provide various methods for businesses to accept customer payments, helping them increase sales and revenue.
One of the payment methods is bank transfer.
Pay with Bank Transfer on Checkout
Fincra offers Pay with Bank Transfer options with different products and features for businesses. Pay with Bank Transfer is a way to securely make payments via a direct transfer from your bank account. This process takes just a few steps with no account setup required. Pay with Bank Transfer is safe because the customer benefits from bank-grade security with no payment details stored on any gateway.
With Fincra, businesses can allow their customers to Pay with Bank Transfer at Checkout. When customers choose this option, they get an account number they can manually make a transfer to primarily via mobile or online banking. For the business, Fincra generates a Virtual Account tied to the customer and the transaction for the customer to make payment.
The customers indicate that they have made payments while the system confirms the transactions. The system returns a successful transaction notification if the business receives the payment. Businesses receive instant settlement on their preferred settlement destination (Fincra Balance or bank account).
Pay with Bank Transfer via Payment Links
Fincra provides a Payment Link to receive digital payments from customers for businesses that do not have a dedicated website for Checkout. Payment Link is a URL that businesses can send to customers, which takes the buyers to a stand-alone web page created for that transaction.
A Payment Link takes a customer to a Checkout page with the Pay with Bank Transfer option. It is easy to generate Payment Links from the Fincra Dashboard. Here, the flow is the same as when customers click Checkout on a website.
Pay with Bank Transfer without an online model
Sometimes businesses sell away from the online model where they send their Virtual Accounts (mostly permanent Virtual Accounts) to customers to make payments. Pay with Bank Transfer also applies here.
Pay with Bank Transfer on POS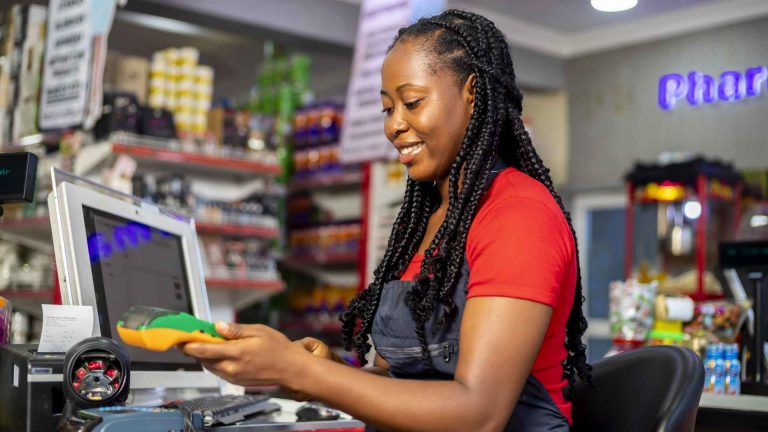 Businesses can accept payments via Pay with Bank Transfer with Fincra POS Terminal
While we have mainly discussed online payment in this article, traditional mortar-brick shopping is still dominant in Africa. Fincra also has solutions for businesses to receive in-person payments. Our POS Terminal allows businesses like retail stores, fuel stations, distributor touchpoints etc., to receive point-of-sale payments with customers with Pay with Bank Transfer.
It makes it convenient for customers to make POS transactions without their physical bank cards. Here, the teller selects the Pay with Transfer option on a POS, and the system generates a Virtual Account number. The customer transfers to this account number, and the POS device prints a receipt to confirm the state of the transaction.
This option reduces in-person payment transaction time with instant POS notification.
Conclusion
Fincra provides solutions that cut across the payments landscape within and outside Nigeria. We offer multi-channel methods to Pay-Ins, Pay-Outs and payment management capabilities as a platform to global merchants, fintechs, banks and institutions offering digital payment solutions to their users.
Pay with Bank Transfer is one of the features that come with some of our products. Payments via transfers are still very popular in Nigeria as the payment method is very familiar to users who are not yet comfortable with inputting their bank card information on a website.
With Fincra Pay with Bank Transfer, reconciliation and analysis are easy as all transactions appear on the Fincra Dashboard.
Do you have any questions about Pay With Bank Transfer or want to try it out with your customers? Get in touch with us to get started.