Some key takeaways from Wole Ayodele's interview with TechNext.
Last week, Nigerian tech media platform TechNext featured our Chief Executive Officer, Wole Ayodele, in its Startup Review series. In his interview, he discussed Fincra's key products, how we help global businesses, our mission, our people, and the next steps for Fincra.
We have highlighted some key takeaways from the interview.
The gap
In the interview, Ayodele spoke about the gap he found in payment that led him to kickstart the vision at Fincra.
""...I found that people were doing transactions across Africa but there was a gap from the payment infrastructure point of view. Someone had to fill that gap by delivering that payment infrastructure…"
Enter Fincra, a payments infrastructure that makes it easier for business platforms, fintechs, and financial institutions to seamlessly perform local and international financial transactions. Fincra's suite of world-class products-payouts/transfers, collections and easy to integrate APIs also provide customers of these businesses with similar opportunities.
Fincra's culture of consistency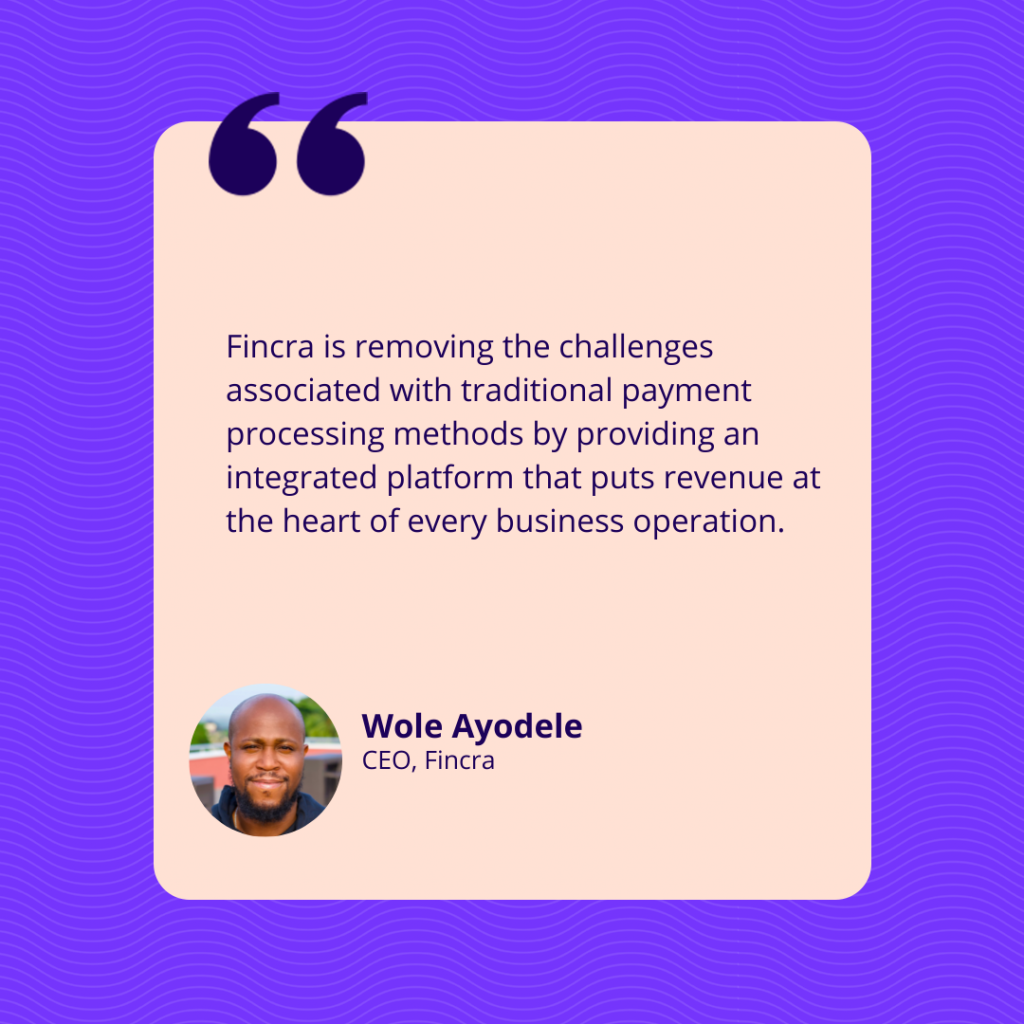 Fincra CEO speaks on the company's mission
Next, Ayodele touched on how onboarded merchants trust Fincra to be a secure and seamless payment partner. These businesses are trying to escape hurdles like country-specific regulations, delays in time of transactions, among other issues, to make seamless cross-border payments.
""...Fincra is removing the challenges associated with traditional payment processing methods by providing an integrated platform that puts revenue at the heart of every business operation. We are making it easy for businesses to scale across multiple markets by offering a simple, secure, low-cost way to receive and send money…"
Customer-focused solutions
At Fincra, we are focused on building customer-focused solutions. A core value that we uphold with utmost importance at Fincra is Customer Obsession, and it shows with how we aim to make our customers' lives easier through our suite of products.
""...We operate on the 'customer-obsession' approach. Often, people say things like that. But at Fincra, we mean it. We are actually involved in making customers' life easy. The services we offer are superior; they are inspired by the dedicated one-on-one interactions we have with customers. The approach has been very helpful in creating innovative products for the market…"
Africa at the heart of Fincra's solutions
Fincra's mission is to build the infrastructure that will digitally connect Africa to the rest of the world. We provide African businesses with the right tools to expand their operations across the continent and beyond.
""...For me, I think that the seamless transfer of value/money across Africa is important to unlocking a lot of economic potentials. This is why we are focused on Africa…"
There is no doubt that partnering with Fincra for your payment needs is a step in the right direction for your business.
Fincra registered merchants can make payouts/transfers to their partners and suppliers all over the world in EUR, GBP, GHS, KES and NGN. Merchants can collect payments from their customers through debit/credit cards and bank transfers. Fincra provides easy to integrate APIs that are designed to automate end to end payment processes for you and your customers.
Create an account in 2 minutes to try our products out
Subscribe to our YouTube channel for tutorials on how to use our products easily and effectively.