I. Introduction
In today's digital age, where e-commerce has become the norm for significant businesses, online checkout has emerged as a critical factor for success and growth. Businesses must pay attention to the financial aspect of their operations, and payment plays a pivotal role in determining business success. Therefore, the checkout process holds immense importance in converting potential customers into satisfied buyers.
The online checkout process acts as the final gateway between a potential customer and a completed sale in e-commerce. With an increasing number of Nigerians embracing online shopping, businesses need to optimise the checkout experience to drive more sales, retain customers, and remain competitive in the flourishing digital marketplace.
By recognising the power of online checkout and implementing effective strategies, businesses can unlock higher conversion rates, foster customer loyalty, and propel their growth in Nigeria's e-commerce landscape. 
This article aims to guide businesses through the intricacies of online checkout in Nigeria, providing essential strategies and best practices to streamline the checkout process and yield optimal results.
II. Understanding the Nigerian e-commerce landscape
The Nigerian e-commerce market has grown exponentially in the last decade. The market is driven by its young population that has adopted digital technology due to increased internet penetration and rising smartphone usage.
The potential of the e-commerce market in Nigeria is enormous, with industry reports projecting the market to hit $7,627.6 million this year.
A. Key players 
During the early days, online marketplaces such as Jumia and Konga held a dominant position in the Nigerian e-commerce market. Despite the entry of other players, these online marketplaces remain major e-commerce platforms in Nigeria. Other notable examples include Jiji, Cars 45, and more.
The rise of e-commerce and changes in consumer behaviour have prompted traditional businesses, physical retailers, and wholesalers to embrace digital technology and venture into online selling. 
In Nigeria, a wide range of products can now be bought and sold online, with some of the most popular categories being food, fast-moving consumer goods (FMCGs), groceries, beverages, alcohol, clothing, and mobile devices.
Moreover, social commerce has gained significant traction, with small business owners using platforms like Facebook, Instagram, Twitter, WhatsApp, and others to sell their products. This trend has allowed them to establish a strong presence in the Nigerian e-commerce market.
B. Consumer behaviour and preferences in online shopping
The rise of e-commerce in Nigeria can be attributed to the expanding middle class, primarily young and urban individuals who have recently gained earning power. This demographic has embraced e-commerce due to its convenience, affordability, and the value it offers when making purchasing decisions.
Furthermore, Nigerian consumers are strongly inclined towards mobile and social commerce, driven by their extensive use of social media and mobile devices. A study conducted in 2021 revealed that Nigeria topped the list of countries in terms of online purchases made via mobile devices.
However, the Nigerian e-commerce market is affected by the country's infrastructural deficit, resulting in the speed of delivery not being a defining factor. These challenges have influenced expectations regarding delivery times. In most cities surrounding Lagos, deliveries typically take around 24 hours, while inter-state deliveries can take several days and sometimes up to a week.
III. Online checkout in Nigeria 
At the inception of e-commerce in Nigeria, platforms relied on international gateways to collect payment which had the major pitfalls of the difficulty in collecting local payments, lack of local customer support, withdrawal restrictions and delays etc. 
With time, Paystack, Flutterwave, and Fincra have trusted payment gateways allowing e-commerce businesses to collect online payments. 
These gateways have a checkout, the steps a customer takes to complete an online transaction. 
A. Smooth checkout experience 
A smooth checkout experience is the bedrock of online shopping. A lot depends on the ease with which customers take all the steps in the checkout process and complete a transaction. 
A smooth and hassle-free checkout experience enhances customer satisfaction in the online shopping journey. 
A smooth checkout experience eliminates friction and frustration, reduces transaction time for the customer and gives the customer a positive impression of your business. 
This positive customer experience further leads to more satisfied customers, sales, revenue, and retention. 
A smooth checkout experience saves customers valuable time and effort, allowing them to complete their purchases swiftly and effortlessly.
B. Seamless checkout process and increased conversions
The primary objective of the checkout process is to convert website visitors into paying customers by guiding them through the necessary steps to complete a transaction. This conversion occurs when a visitor arrives at the website, selects a product, and successfully proceeds through the checkout process to finalise the purchase.
However, when businesses fail to optimise the checkout process, it often results in cart abandonment, which has long been a challenge in e-commerce. Statistics indicate that approximately 77% of online shopping carts are abandoned, reflecting a concerning trend. This trend underscores the crucial importance of eliminating any obstacles or friction that may hinder the smooth completion of the checkout process.
The key focus should be streamlining the checkout experience, minimising barriers, and enhancing user satisfaction to increase the likelihood of successful conversions. Businesses can significantly improve their conversion rates and maximise revenue by addressing the factors that contribute to cart abandonment.
IV. Ways to simplify the online checkout process for Nigerians 
With the understanding of the e-commerce landscape in Nigeria and the significance of an optimised online checkout, we want to look further at ways we can simplify the process for Nigerians.
A. Guest checkout option
Requiring customers to register on your website before reaching the checkout can be time-consuming and counterproductive, considering the numerous distractions on the internet. It adds unnecessary friction to the checkout process, which ultimately doesn't make sense.
Implementing a guest checkout option in Nigeria can revolutionise the online shopping experience. By simplifying the checkout process and eliminating the registration requirement, businesses can provide a hassle-free experience that encourages impulse buying and enhances customer satisfaction.
Offering a guest checkout option is an effective strategy for acquiring customers who prefer a streamlined and efficient checkout process. With this approach, customers can purchase without creating an account upfront. After completing the checkout process as a guest, they can register and become returning customers, fostering a long-term relationship with the business.
Implementing a guest checkout option in Nigeria can significantly improve the online shopping journey, remove unnecessary barriers, and ultimately increase conversions and customer loyalty.
B. Clear and concise forms
Having a clear and concise form is part of an optimised checkout process. Lengthy and complicated forms make the checkout process longer and more tedious, resulting in customer frustration and loss of sales and revenue. 
Design plays a massive role in the checkout process, and in this case, businesses should prioritise simplicity and clarity when designing their forms.
Checkout forms should only have forms for customers to input essential information. Other design tips that work here include clear instructions and placeholders to guide customers through the form-filling process.
C. Autofill/complete 
Autocomplete is a valuable feature that businesses can incorporate into their checkout process, providing a seamless shopping experience for returning customers. 
This technology relieves customers from the burden of manually entering their card details and other vital information. Instead, the autocomplete feature intelligently populates the required fields, expediting the checkout process and enhancing efficiency.
By leveraging autocomplete, businesses can offer returning customers a convenient, time-saving solution. This feature eliminates the need for customers to input their information repetitively and minimises the risk of errors or omissions. As a result, the checkout process becomes faster, smoother, and more user-friendly, encouraging customers to complete their purchases quickly.
V. Optimising online checkout for mobile devices
The widespread use of mobile devices has emerged as a significant catalyst for e-commerce growth in Nigeria. Consequently, businesses must prioritise optimising their checkout process specifically for mobile devices.
Mobile optimisation guarantees a seamless, user-friendly, and visually appealing checkout experience tailored to the constraints of smaller screens. 
By ensuring that the checkout process is optimised for mobile, businesses can accommodate the preferences and behaviours of customers who predominantly utilise their smartphones and tablets for online shopping.
Mobile optimisation encompasses more than just visual elements—it also involves enhancing performance and load times to account for the slower internet speeds prevalent in some regions of Nigeria. 
By optimising for mobile, businesses can cater to customers nationwide, regardless of their location or internet connectivity limitations. This inclusive approach allows for a positive shopping experience for customers from all regions, leading to an expanded customer base and increased sales opportunities.
By prioritising mobile optimisation, businesses in Nigeria can capitalise on the mobile-driven e-commerce trend, tap into a wider audience, and cultivate customer loyalty through an exceptional shopping experience.
Mobile payment
In addition to visual and performance optimisation, integrating popular mobile payment options is another crucial aspect of optimising for mobile. 
By incorporating mobile wallets or digital payment platforms into the online checkout process, businesses can further enhance the mobile shopping experience.
For betting companies and marketplaces, integrating mobile wallet systems allows customers to store and manage funds within their platform conveniently. 
This seamless integration ensures customers have readily available funds to complete transactions, reducing friction and enhancing the overall user experience.
VI. Payment preferences in online checkout in Nigeria
As previously discussed, e-commerce players in Nigeria initially faced challenges using payment gateways from foreign providers, which resulted in limitations regarding local payment methods and options. 
However, these limitations have been overcome by the emergence of local payment gateways specifically designed to cater to the needs of the Nigerian market.
Local payment gateways have successfully addressed the bottlenecks associated with the lack of suitable local payment methods. They now offer checkouts that prioritise and accommodate the payment preferences prevalent in Nigeria.
A. Accepting card payments
Cards are used for most online retail payments in Nigeria, with a study suggesting that 37% of the total online transactions in Nigeria are with cards. 
Credit and debit card payments were the primary means of payment in online checkout in Nigeria and have continued to retain their popularity. 
Businesses must integrate reliable and secure payment gateways like Fincra to accept major card networks like Visa, Mastercard, and Verve to provide their customers with a seamless and familiar payment option.
B. Integration of bank transfers
With the increasing acceptance of e-commerce, older demographics have begun embracing online shopping. However, due to their familiarity with traditional payment systems, they may still harbour reservations and lack full confidence in online payment methods. 
The apprehension surrounding inputting card details on the internet highlights the importance of providing alternative payment options, such as bank transfers, in the checkout process.
To address this need, Fincra Checkout offers businesses the capability to collect payments through card transactions and bank transfers. This feature accommodates customers who prefer the security and familiarity of bank transfers as a payment method, catering to their specific concerns and enhancing their trust in online purchasing.
Furthermore, Fincra Checkout provides an additional payment solution called PayAttitude. This innovative system allows customers to conveniently make payments using their phone numbers, streamlining the payment process and offering a seamless experience.
C. Mobile wallets
We discussed some use cases for mobile wallets that enable users to hold funds on a platform and easily make payments. 
Businesses can integrate mobile wallets into the checkout process to allow customers to complete transactions quickly. 
VII. Trust and security 
Trust and security are paramount in the online checkout process in Nigeria, as any instance of fraud or breach can significantly undermine the progress made in e-commerce. Businesses must implement several key measures to establish a secure and trustworthy checkout experience.
A. SSL certificates for secure data transmission
Implementing SSL (Secure Sockets Layer) certificates is crucial to ensure secure data transmission between customers' browsers and your website's server.
SSL certificates encrypt sensitive information, such as credit card details and personal data, preventing unauthorised access or interception.
By displaying the padlock symbol and HTTPS in the website address, businesses can provide visible assurance to customers that their data is protected.
SSL certificates protect customer information and build trust and confidence in your business's security practices. Partnering with reputable SSL certificate providers and regularly updating and renewing certificates is essential to maintain a high level of security.
B. Partnering with Fincra
Partnering with reputable payment processors is vital for ensuring trust and security in the online checkout process.
Fincra is a reputable payment processor that offers secure and encrypted payment gateways that protect customers' financial information during transactions.
Fincra is certified by the highest compliance standards across our operational countries and regions. We are PCI DSS compliant and have other certifications from the Nigeria Data Protection Regulation (NDPR) and International Organization for Standardization (ISO).
C. Transparent pricing and chargeback processes
Transparent policies regarding pricing, refunds, returns, and privacy play a significant role in building trust and confidence during the online checkout process.
Communicate your policies to customers, outlining the process for returning or exchanging products, issuing refunds, and addressing privacy concerns.
VIII. Tips for testing and optimising the online checkout experience
Optimising the online checkout process is not a one-time process. Businesses that want to avoid friction in their checkout process must regularly test to identify areas of improvement and eliminate potential bottlenecks. 
Customer feedback and analytics are also very crucial in optimising the checkout processes. Listening to and acting on customer feedback can be the difference for any business. 
Monitoring key performance metrics, such as cart abandonment rate, conversion rate, and average order value, provides constant visibility into the effectiveness of the checkout process. 
By monitoring these metrics over time, businesses can identify trends, spot areas of concern, and make data-driven optimisations to enhance the checkout experience.
A/B testing is also a powerful technique for continuously improving the online checkout experience. 
A/B testing involves creating two or more versions of a checkout page with slight variations and splitting incoming traffic to compare their performance. 
By testing different elements, such as button placement, form design, or payment options, businesses can identify the most effective combination that leads to higher conversions.
Conclusion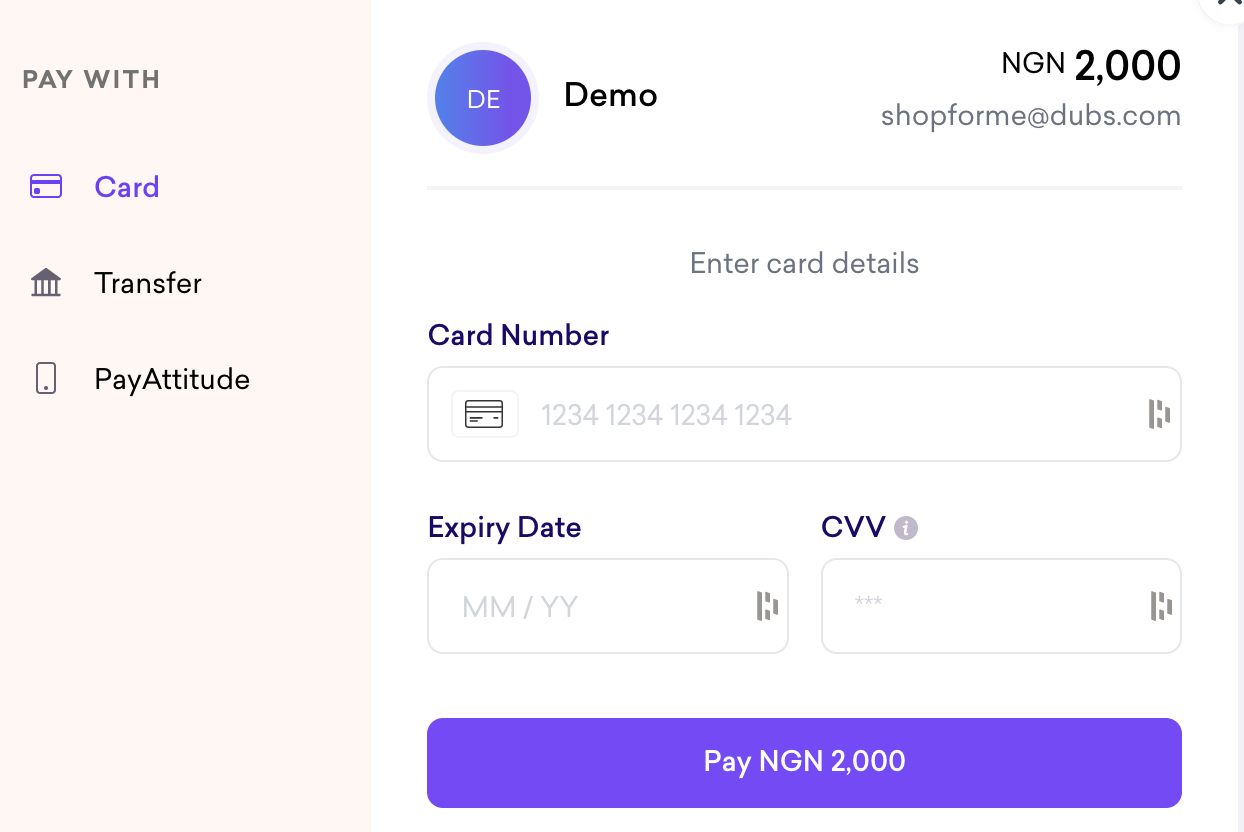 In Nigeria, e-commerce is an ever-growing trend, and businesses must adapt by embracing online selling to align with customer preferences and purchasing behaviours. 
Businesses require a streamlined checkout process to enhance online sales and meet customer expectations, and Fincra provides the ideal solution.
Fincra's Checkout is designed to fulfil all the requirements of an optimised checkout experience for businesses. 
With Fincra Checkout, businesses access diverse payment options catering to customers' preferences. 
The platform is user-friendly, ensuring a seamless and hassle-free checkout process. Furthermore, Fincra Checkout is optimised for mobile devices, enabling customers to purchase on their smartphones or tablets conveniently. 
Should any assistance be needed, Fincra offers excellent customer support to address business-related inquiries.
To unlock the potential of your online sales and provide an exceptional checkout experience in Nigeria, sign up for a free Fincra account today. 
By leveraging Fincra Checkout, businesses can enhance their online sales, align with customer expectations, and capitalise on the growing e-commerce trend in the country.