Introduction
In August 2023, we proudly launched the Fincra Partner Program, an initiative to enrich the Fincra merchant experience with more than just payment solutions. 
Through strategic collaborations with startups and enterprises, we connect ambitious businesses across Africa with the tools and resources they need to thrive. 
This is how the program works; specifically focusing on the Perks Partners category, this program is designed to elevate operational efficiency and business growth for our cherished merchants.
In our Perks Partners category, we've brought together businesses and enterprises dedicated to enhancing the journey of our esteemed merchants. 
These partners offer exclusive discounts and benefits, fostering growth for both parties. Today, we shine the spotlight on one such partner: WiiCreate.
Meet WiiCreate
WiiCreate, a distinguished merchandise company, caters to businesses of all shapes and sizes. 
In branding, merchandising is pivotal in driving marketing results, elevating brand awareness, and boosting employee engagement. 
WiiCreate enables high-growth startups and businesses across Africa to order merchandise for employees, customers, campaigns and events. From onboarding employees to elaborate marketing campaigns, they are the perfect merch partner to help companies achieve ambitious marketing goals. 
Exclusive perks from WiiCreate
As part of the Fincra Partner Program, WiiCreate empowers Fincra merchants with enticing perks, including a 5-10% discount on the total invoice and a complimentary bundle of 10 Button Badges and/or laptop stickers for every order exceeding N500,000.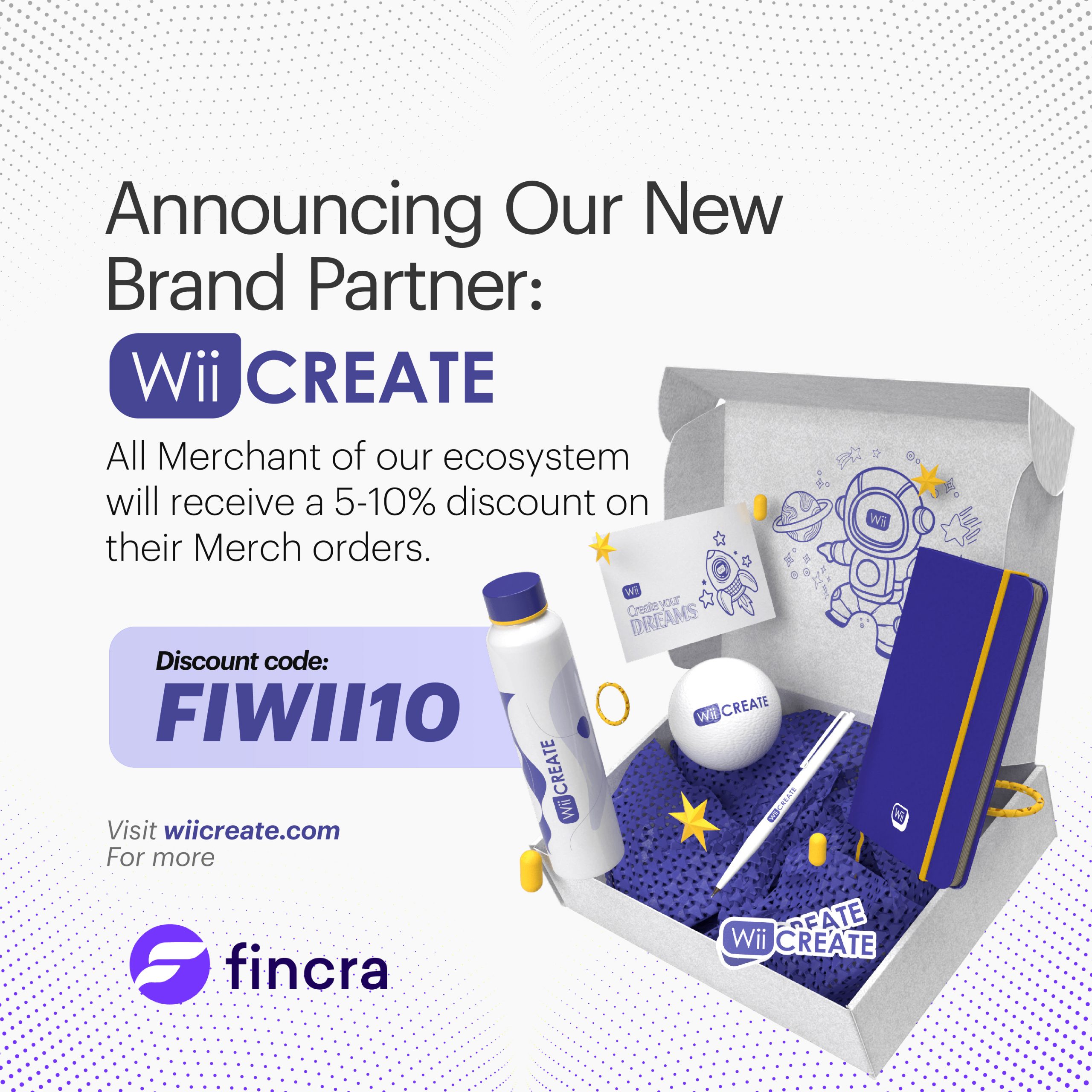 What this means for Fincra merchants 
With WiiCreate as a Perk Partner, Fincra merchants can significantly reduce their merchandising costs to help drive their branding efforts and marketing initiatives.
Getting involved
The Fincra Partner Program extends its benefits to all players in the ecosystem. 
Businesses seeking tools and resources to scale can get exclusive access to our partner benefits by creating an account with Fincra.
Fincra offers a robust array of payment solutions to fuel your growth and amplifies its value through the Partner Program, granting access to a wide range of tools and resources designed to address challenges beyond payments.
For businesses eager to boost their revenue, harness referral benefits, enhance brand exposure, foster collaborative opportunities, and expand their network, joining the Fincra Partner Program is the next logical step.
Conclusion
In the fiercely competitive business landscape, staying one step ahead is the ultimate goal. 
Effective partnerships are a key driver in achieving this. The Fincra Partner Program allows businesses to collaborate and partner with like-minded enterprises, accelerating their growth and expanding into new markets. 
We invite you to explore further to learn more about the Fincra Program and its wealth of benefits.