Fincra is a fintech company that provides B2B payment systems and solutions.
Businesses across Africa have been reaping the benefits of technological advancements in payment systems. Because of these shifts in financial technology, businesses across the continent now have the opportunity to grow faster.
The digital revolution has opened African businesses to the world, allowing them to participate in global economic activities.
Despite this digital revolution, many challenges are still confronting the B2B payment space. Most businesses are still dependent on in-person processes and time-consuming and expensive transaction methods to make B2B payments.
B2B payments are the transfer of value between two businesses. The relationship between two businesses can differ; it might be between a producer and a supplier, between two businesses exchanging goods or services etc. Global businesses that want to pay their Africa-based vendors and partners, and vice-versa are also in this group.
B2B payments can be single or recurring payments depending on the agreement between the two businesses. Still, unlike other forms of business payments, they are complex and traditionally much larger in volume.
There are several methods of making B2B payments, including checks, wire transfers, credit card payments, cash and payment gateways.
Use of Checks: The paper checks system is still in use globally, with PYMNTS' most recent survey reporting 25% usage for all B2B payments in the United States. Although there is no data for Africa, it is safe to assume that is the case on the continent. This method is still time-consuming; first, you deposit a check, and then another payment request is sent to another bank before confirmation.
Wire transfers: First introduced decades ago by Western Union, this is the electronic transfer of money through a financial network-mostly, SWIFT. This method is expensive and usually takes a lot of time.
Credit cards: This payment is made with credit cards and is common among small businesses. This method is faster and safer than the previously mentioned methods. However, the processing fee is usually high, and most credit cards have a maximum transaction limit, making it difficult for larger payments.
Cash: Although it's gradually becoming obsolete, many African businesses still make their B2B payment with cash. This method is not safe, takes time and lots of effort and is almost impossible for cross-border transactions.
Payment system: With technological advancement, fintech companies have developed systems to simplify B2B payments. Payment gateways or systems are becoming the most popular method of B2B payments.
Before using a payment system provider, businesses must understand what features it offers and how it can help them with their B2B payments.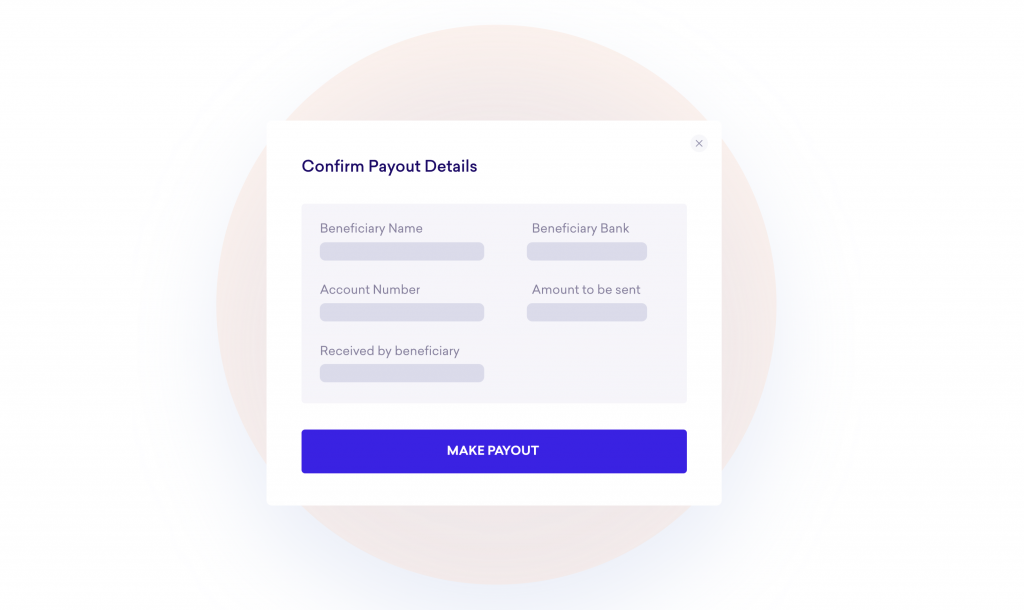 With Fincra Payout features, B2B payments are convenient and safe.
Fincra is one of those companies with tools to help B2B payments. With Fincra, businesses can use our Virtual Account and Payout features to make payments to other businesses in different countries and currencies. We have every tool available to make your B2B payment more convenient.
With our Payout feature, businesses can instantly pay vendors, suppliers, and other businesses in EUR, USD and GBP and several African currencies like GHS, KES, ZAR, NGN, etc. Our payout feature automatically converts and pays the beneficiaries in their preferred currency when making payments.
With Fincra, businesses can make payouts to Ghana, other African countries, or other countries outside of the continent. And it's not just about paying. Businesses can also receive payments from other businesses with Fincra. With our Collection features, you can accept payments via your Virtual Account and settle in your local currency without stress.
With Fincra, you are safe from any price volatility, making you receive the exact value of money you expect. The rates are also transparent and competitive. Most importantly, receiving money with Fincra is safe and reliable.
It would be best to look out for the above-mentioned features before choosing a payment systems provider for your B2B Payments. Making your B2B payments with Fincra will give you a competitive edge in future transactions.
Contact the Sales Team here to get you started.